October 23, 2019 |
Alaina Dodds
While we do tend to celebrate single-vineyard Rieslings all year round around here, we have an extra special vintage to celebrate right now. Our just-released Ten Hands Riesling made from grapes grown by vineyard owners and wine aficionados, Tom and Claudine Petzold and crafted by our winemaker, Bryan Ulbrich. We released this wine less than a month ago and we are already almost completely sold out of it, that's how good it is...61 cases are now being enjoyed by many Wine Club members. Because of it its limited quantity to start, we only offered the sale of it to Wine Club members - just another perk of being part of the BHV family. Are you a member yet? If not, learn more about why it's the best Wine Club around HERE.
A Little About Tom, Claudine and Ten Hands
Tom brings a depth of wine knowledge and a love of sharing it to the Bowers Harbor Vineyards staff. His ready smile and passion for wine make the tasting room experience both fun and educational. Tom is our Vineyard Tour Guide Specialist and grows grapes from his Ten Hands Vineyard for BHV.
Tom's employment at the historic Pontchartrain Wine Cellars Restaurant in Detroit gave him his first exposure to the world of wine. His subsequent 17-year sojourn in Europe while working for the U.S Air Force afforded him the opportunity to deepen his love and respect for fine wine. Tom and Claudine found time to explore some of the oldest and most recognized wine regions in the world and gladly embraced the European tradition of enjoying wine as a part of daily life.

Tom and Claudine moved to Traverse City from Washington DC in June 2007 after they formally retired from careers in the government and teaching. A native of France, Claudine has lived in several European countries as well as various parts in the USA. Horticulture has always been one of her interests, beginning when she worked on her family farm in France and during harvest in the Champagne and Alsace areas.
Claudine particularly enjoys working outside in the summer, tending to her vegetable and flower garden as well as helping Tom in their vineyard, taking care of their 2000 misbehaving children, i.e. Riesling, Chardonnay, Pinot Noir, Pinot Blanc, and Auxerrois.

Here is a little video of Tom and Claudine talking about their amazing vineyard, Ten Hands.
Ten Hands Vineyard faces a cool East Bay, situated on the northeastern shore of Old Mission Peninsula. The soil is sandy loam with mixed concentrations of clay and gravel. The glacier movements mixed the soil, so it both drains well, has very little concentrated sand, contains moderate humus, and is a bit alkaline in pH. For fruits, including grapes, this is ideal. Tom and Claudine enhance the soil with annual compost additions and by planting a vast mix of grasses and legumes in the row middles.
Tasting Notes
Ten Hands Riesling is truly a treat for your taste buds; think green apple peel and lime on the nose and green pear, nectarine and lychee fruit on the palate.
Food Pairing
One of the most fun parts about drinking wine is pairing it with food! I love thinking outside the box and pairing with accessible and low maintenance food because I still think there is a misconception that wine should be paired with fancy foods like lobster and filet mignon.
Here's my take on a fun pairing with the delicious Ten Hands Riesling.
Bacon-and-Egg Pizza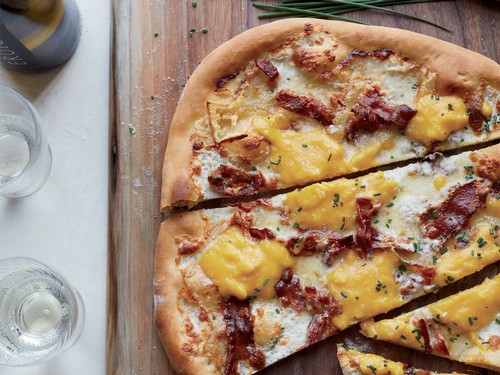 Ingredients:
6 ounces thick-sliced bacon, cut crosswise into 1/3-inch lardons
4 large eggs
1 tablespoon heavy cream
Kosher salt
2 tablespoons unsalted butter
All-purpose flour, for dusting
1 pound pizza dough
1/3 cup crème fraîche
3 ounces Brie, thinly sliced (with rind, if desired)
2 ounces fresh mozzarella, shredded
Snipped chives, for garnish
Method:
Step 1: Set a pizza stone in the oven and preheat the oven to 500°. Spread the bacon in a pie plate and bake for 15 minutes, stirring once, until nearly crisp. Using a slotted spoon, transfer the bacon to paper towels to drain.
Step 2: Meanwhile, in a bowl, whisk the eggs with the cream and a pinch of salt. In a medium nonstick skillet, cook the eggs and 1 tablespoon of the butter over low heat, whisking frequently, until small curds form and the eggs are creamy, about 12 minutes. Remove the eggs from the heat. Stir in the remaining 1 tablespoon of butter and season with salt.
Step 3: On a lightly floured work surface, stretch out the pizza dough to a 12-inch round and transfer to a lightly floured pizza peel. Spread the crème fraîche evenly over the dough, leaving a 1-inch border all around. Top with the crispy bacon, Brie and mozzarella.
Step 4: Slide the pizza onto the hot stone and bake for about 7 minutes, until lightly golden and bubbling. Remove the pizza from the oven and spoon the scrambled eggs on top. Slide the pizza back onto the stone and bake for 2 minutes longer, until the eggs are hot. Garnish with chives, cut into wedges and serve.
If you don't have Ten Hands Riesling, this recipe would also pair well with our Riesling, Medium Sweet. Give it a try and let us know what you think!
Celebrating Excellence
Gifted winemaking, committed to extracting maximum characteristics from the grapes, creates this exceptionally lovely Riesling. If you didn't get your hands on the 2018 vintage, don't worry - there will be a 2019 vintage. We just harvested the grapes last week! To tide you over, here is a gorgeous photo that Tom took of his grapes a couple of weeks before harvest, when they were plump and juicy, soaking up the last bits of sunshine.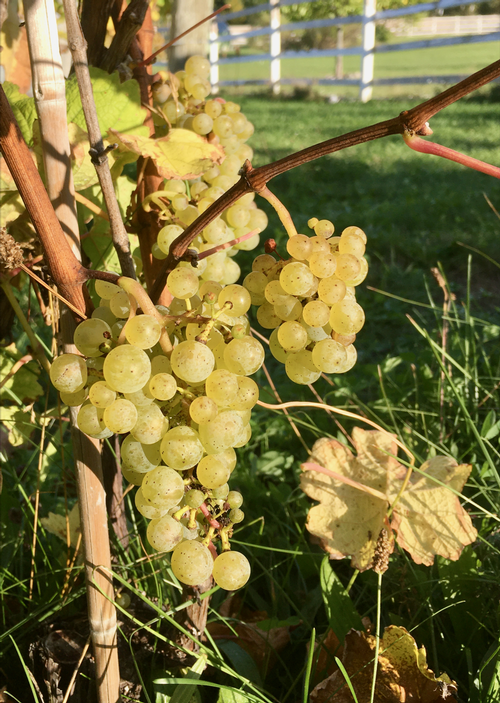 Cheers!