January 21, 2019 | BHV Staff, General | Alaina Dodds
Connie The Great!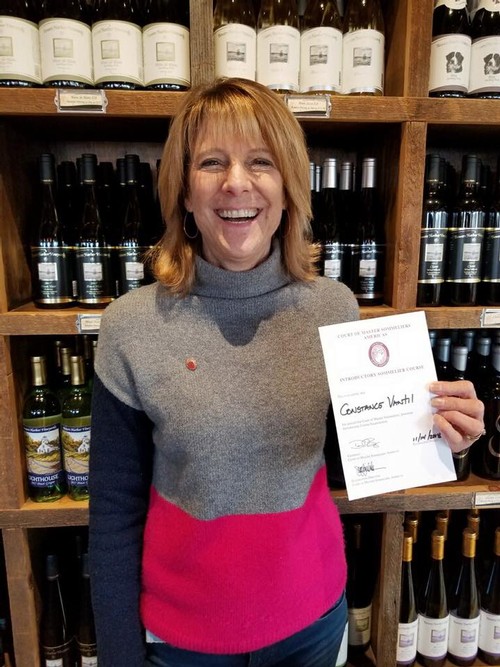 "Have you ever thought about doing the Introductory Sommelier Course?" Kristy nonchalantly tossed the question my way. Um, well, yes. I had thought about it once for approximately two seconds and immediately dismissed the idea. My oldest daughter has passed her Intro, her Certified, and her Advanced Sommelier exams, and I know the massive amounts of information she has assimilated. It's daunting.

Still, the thought was intriguing. After all, I'm going on my twelfth year working at Bowers Harbor Vineyards; part-time, of course, but still. I've been around wine and the wine industry long enough that I've listened, learned, read, tasted, asked a lot of questions, and developed a good working knowledge of wine basics.
"OK," I thought, "I'll just check online and see when the next Intro course is offered in the Midwest." The Court of Master Sommeliers makes the various levels of sommelier certification courses available throughout the country on a yearly basis. The trick is to find one that works with your geography and time schedule, and that isn't already full. I pulled up the website, went to the calendar, and checked the schedule for the upcoming 12 months. There was only one Intro course scheduled for the Midwest, and it was – gulp – in Detroit 5 days hence. Seriously?? "Well", I thought, "what do I have to lose? My pride? Three days of time? A small chunk of money? But it might be a great learning experience, even if I don't pass." So I pulled the trigger, registered, booked a hotel room, and headed home from work that evening ready to download the study manual. All 300 pages.
Five days later, I arrived at the hotel in Detroit around 7:30 a.m. for the first day of the course. There were about 90 other attendees, most from some segment of the beverage or hospitality industry, although the fellow sitting next to me was in the mortgage industry and simply wanted to put this on his resume. We were seated at long tables in a comfortable conference room, and after a brief introduction by the four Master Sommeliers teaching the course, the barrage of information began.
The next 10 hours were filled with viticulture and vinification theory; detailed explanation of and practice with the "deductive tasting method"; the basics of food and wine pairing; and then - FRANCE. France, in all its historical and viticultural glory, with exquisite attention to every detail of Burgundy, Bordeaux, Champagne, the Loire Valley, Alsace, and the Rhone Valley. The day ended with a discussion and demonstration of service, salesmanship, and hospitality. Then 90 people filed glaze-eyed out of the conference room to either drink themselves into oblivion or go back to their rooms to study. I studied.
The following day we returned for a second bombardment of information, this time covering Italy, Germany, Austria, Spain, Portugal, North America, South America, South Africa, Australia and New Zealand. And for good measure they completed the day with detailed instruction on fortified wines, beer, sake, cider and spirits. And in between all of those we had managed to do six different deductive tasting sessions, exploring 18 white wines and 18 red wines.
At the conclusion of Day Two, we were given a 70-question exam, with 45 minutes to complete it. I finished my exam in about 15 minutes, and then went to wait with others in the lobby outside the conference room. There was a lot of nervous dialogue and mild tension as we waited for everyone to complete the exam, and then another long wait before we were all invited back into the conference room. Glasses of champagne were distributed, and each person waited anxiously to hear their name called. Happily, I passed!
I walked away with not only a certificate and a pin, but a far greater understanding of and appreciation for what we do here at Bowers Harbor Vineyards. There is a balance in the world of wine between complexity and simplicity that is striking. The simple is obvious: we grow grapes out of which we make wine. We're farmers. The complexity is an everchanging landscape of factors; we have control over some of the factors. Others, not so much. The soil is there as the foundation of what we do. It can be nurtured, cultivated, or depleted depending on what we do. But we cannot change it, and we would do well to respect and understand its unique character and draw on its strengths. The region in which we farm is Northern Michigan, no more or less stunning than Burgundy or Bordeaux. And therein lies its beauty, and the reason we love what we do here.
There is no other place on earth that will ever make wine exactly like the wine we make here at Bowers Harbor Vineyards. Similar, perhaps, of the same varietal with a similar chemical profile. But never quite like the grapes that bask in the morning sun along Bowers Harbor Road, lean toward the evening sunset in the Langley Vineyard, or get buffeted by the West wind howling through Block I. Those are the grapes gifted to us, and with which we seek to make wines that express the distinct character of this place. Those are the wines we love to share with family and friends. That is the challenge and the privilege of who we strive to be at Bowers Harbor Vineyards.