March 19, 2018 | General, Harvest | Alaina Dodds
Design the Vine
It's coming up on our favorite time of year here at BHV. Why, you ask? Pruning (yes, we really mean that!)! We spent February snowshoeing around, rolling through the vineyards, and checking on our vines. This time in the vines allowed us to fully see the quality of vine management from the previous vintage and make any necessary adjustments. It gave us a moment to pause and direct our attention to any new techniques that we may want to apply in the vineyard. It is also an opportune time to evaluate the position of the vines' shoots and anticipate changes we may want to make for not only the current growing season but for productivity of future vintages.
The Proof is in the Pruning
March is here, and for Michigan grape growers that means pruning is just around the corner. For us, grapevine pruning is an annual practice where nearly 90 percent of the previous year's growth is removed. This is how we maintain the vine form and control the fruit and quality.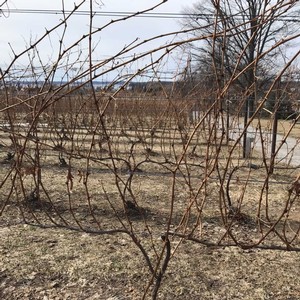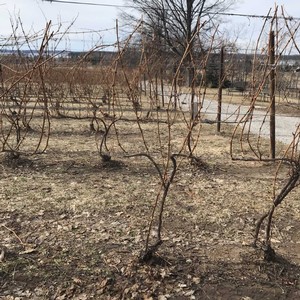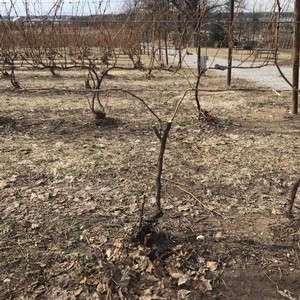 .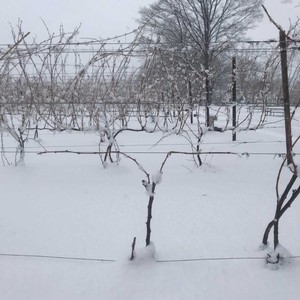 Spencer recently took me on a pruning lesson and it was so interesting to see what happens to, and how much labor goes into, each vine during pruning. If you take a look at the photos above you can see what the vine looked like before it was pruned, the middle stage and after it was finished. I threw the fourth photo in there just to show you what the vine looked like the very next day. One day it was a beautiful, bluebird day, and then the next, a complete whiteout...which is exactly why we start pruning early here! Shoot thinning early in the season is one way to overcome the crowding in these areas.
Size Matters
When pruning, we are trimming the vines to select our best two canes that we will then tie down on the weight-bearing wire, and count out to eight buds (ideal vine). We are looking for a pencil-sized diameter for the canes, not the bigger ones, sometimes referred to as bull wood. We want the pencil-size diameter because it has more vigor and the buds are tighter together.
With over 25 years experience, it's safe to say that Spencer is a fast pruner but just pruning one vine took about 20 minutes! It's pretty incredible to think that this happens by hand every year, on each and every one of our 18,000+ vines!
Stay tuned for the next edition of Designing the Vine!