June 25, 2019 | General | Alaina Dodds
Riesling Roundtable
Last night I participated in a Riesling Roundtable discussion put on by Michigan Wine Collaborative and joined by myself, Chateau Chantal, Fenn Valley Vineyards, Amoritas Vineyards and St. Julian Winery. It was an online conversation on Twitter talking all things Michigan Riesling and it was so fun! I thought I'd break down the conversation into our talking points and share them here.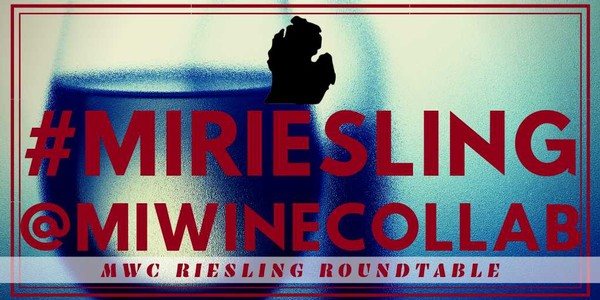 Here's what we discussed:
What makes Riesling a good variety for Michigan vineyards?
It's cold hardy so it can survive in cold temperatures in Winter. It blooms late, like Pinot Noir, so it doesn't get frosted if we get cool nights in Spring. It likes our cool growing region and historically it grows in similar climates throughout the world. Riesling does well in sandy, clay and gravel soil compositions, which is what we have – the proximity to water helps as well to regulate the temperature. Because Riesling likes to grow here, can be made into a wide variety of styles and gets a decent cropping year after year, it's a great crop for farmers – environmentally and economically.
Riesling has transparency that reflects where it's grown – there's no hiding the terroir! What better way to show off Riesling than in Northern Michigan!
What is the most notable characteristic of a Riesling fermentation?
Acidity lays the foundation and balance of the wine and is more important than anything because it dictates how the wine will be. Our cool nights here slow down the ripeness of the grapes so we can keep the acidity longer (which is a good thing!).
A characteristic that shows particularly well in our Riesling wines is the floral spice. When tasting through the various Rieslings from different wineries last night, there were several people mentioning the spice that they detected in Old Mission Peninsula wines that wasn't apparent in wine from Leelanau Peninsula. I just think that is so fascinating: the same style wine grown just a few miles away has a distinct flavor profile.
The stone fruit and aromatics are the fun and pretty side of Rieslings grown in this area.
What are some of the challenges that come with making different styles of Riesling?
A major challenge that we run into in the Tasting Room is people's perception that all Rieslings are sweet. A lot of people are not aware that Riesling is the diamond of grapes, meaning it is multi-faceted. Currently, we have SIX Rieslings on our menu ranging from very dry to very sweet and everything in between, including a sparkling Riesling.
Another challenge is educating people on how well a Riesling can age. Because Rieslings are so bright and pretty when they are young, people love to drink them right away. But, if you don't let some of your Rieslings age, you are missing out on a delicious experience. Over time, Riesling can show off a wide array of flavors. Few people get to enjoy an older Riesling because they are so enjoyable when they are young. Pulling library wines to show the full depth and complexity of different vintages of the same wine (called a vertical tasting) is where a Tasting Room can really educate and open the minds of the consumer.
Key Takeaway: Save your Rieslings, they are MAGICAL when they are older.
How long has MI been growing Riesling?
Our first Riesling plants were planted in 1991 and our first bottle was produced in 1994 (yes, it takes THAT LONG to get a bottle of wine). We were the second wave of Riesling being planted. The first in our area was Chateau Grand Traverse who started growing vinifera grapes in the 70's.
Which Rieslings are most popular in Tasting Room? Direct to Consumer? Retail?
Our Late Harvest style Rieslings (Late Harvest and Medium Sweet) are still the most popular across the board with distribution and in our Tasting Room, but the wine that is growing more and more in sales each year is our Medium Dry. Hopefully this means we are cracking the bias that all Riesling wines are sweet.
Our most awarded white wine is our Block II, which is our driest Riesling. Not only is it our most awarded white wine, it is one of the most awarded Rieslings in the whole country. Have you tried it yet?
What do you do in the Vineyards to make Rieslings stand out in the glass? Tasting Room? Cellar?
Vineyards: We do not over grow our Riesling plants. We do VSP (vertical shoot positioning) and only have 8 shoots per plant. We purposely limit the number of clusters on each plant, ensuring every cluster is developed and well nourished. Each plant is touched 10-12 times per year – so we are constantly pruning and removing suckers to keep the plants in optimal health.
Cellar: In the cellar, we let the grapes and the vintage dictate the style that we are trying to make, rather than manipulating wine. We don't add sugar to Rieslings, we only use natural sugars so it's just the real quality flavor of the grape itself. Northern MI Riesling grapes are harvested in a cool climate, which means managing the pace of fermentation in the cellar is easier to control. This is VERY difficult in warm climate because the speed of which all of this can happen is within a week or two. We have months, it's a slow and patient watch of the wines.
Tasting Room: Employee education is crucial. We are huge on education here and making sure that the staff understands the differences between all the Riesling styles, what pairs well with each and why, etc. Also, taking our guests through vertical tastings is one way to show the complexity of each style of Riesling.
All in all, this Riesling Roundtable discussion was a great experience! To follow along with the entire conversation and to learn more, follow #MIRiesling on Twitter. If you have any questions about these topics, feel free to reach out to me directly at alaina@bowersharbor.com.
Cheers!