January 31, 2018 | Events, Holidays | Alaina Dodds
Super Bowl Foods Are For Wine Drinkers, Too
When I say Super Bowl, you think—what? Football? I think… comfort food, cool commercials, hanging out with friends and Justin Timberlake (halftime performance!). The snacks served on Super Bowl Sunday are typically comfort food on steroids. The flavors are spicy, salty, bold and vibrant.
While beer is the natural match for Super Bowl food, don't discount the wine (I got you, wine lover!). The same qualities that make Super Bowl appetizers good with beer, also make the perfect pairing with fruit-forward, slightly sweet and bubbly wine. And since the food is easygoing, the wines should be, too. No need to break the bank supplying beverages for a crowd if you're hosting.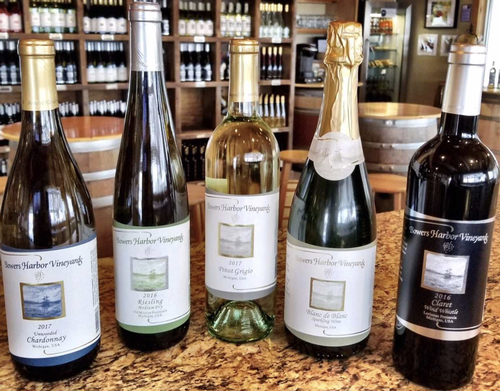 Below are some of my favorite Super Bowl foods along with Bowers Harbor Vineyards wines that are guaranteed to make them taste even better.
Spicy Chicken Wings
Pair with 2016 Riesling, Medium Dry. The bright, green apple flavor and perfect acidity is a nice complement to the wings. And there is just enough sweetness to cut through the spiciness and cool the palate. Spicy wings would also be amazing with the 2017 Riesling, Medium Sweet, which we just bottled and will be available to purchase in the next couple of days!
Spinach Artichoke Dip
Pair with our newly released 2017 Pinot Grigio. This is our #1 selling wine for a reason! We call it a crowd pleaser because it's bright, tropical, citrus flavors pair well with just about any food (including all of the appetizers in this list). It is also the perfect pairing for this dip! Top Tip: avoid red wines with spinach dip since spinach can coax an unpleasant metallic note out of red win.
Cheesy Nachos
Golden Delicious apple and pear flavors with the crisp finish of 2017 Unwooded Chardonnay cut through the richness of the ooey, gooey, mouth-watering cheese.
Meaty Chili
50/50 Merlot and Cab Franc blend, the 2016 Claret, Wind Whistle, pairs perfectly with chili. It's aged in French Oak barrels and the black pepper spice and toast from the barrels is sure to compliment the heartiest of chilis!
Potato Chips
And here is my favorite combo on the list: potato chips and sparkling wine! There is just something so satisfying about pairing an everyday food item, like potato chips, with a glass of sparkling wine, which screams celebration! The bubbles of Blanc de Blanc will cut through the saltiness of the potato chip and be a match made in heaven in your mouth! If you are getting fancy and serving something like truffle potato chips (to DIE for!) then try pairing them with 2014 Cuvee Evan Blanc de Blanc for it's rich and creamy characteristics.
Bullet Point Summary
Sweetness cools the palate
Bubbly cuts through salt
Red wine aged in barrels will pair well with chili spices
Pinot Grigio goes with just about everything
No matter who you're rooting for this weekend and even if you're only watching to see Justin Timberlake at halftime….these food and wine pairings are sure to make for a fun night! Try a few of them and let us know which one is your favorite!