May 29, 2018 | Lifestyle | Alaina Dodds
Taste Wine, Eat Food, Taste Wine
The BHV team had an amazing experience recently! We were treated to a food and wine pairing event at Trattoria Stella's, given by the general manager and sommelier, Alfiero Silveri! It was a private experience, a 5-course meal, where we learned about which foods paired best with Bowers Harbor Vineyards wines, and why. At this point, we all have gone to a lot of these types of events, had tons of training on flavor profiles, learned all about our wines, etc. and there is still SOOOO much to learn! It's fascinating! Pairing wine with food has to be one of the greatest joys in life. I love wine, and I love food, and I double love them together.
Another thing I love, is to learn from passionate people. I'll never forget the first time I learned how important it was to do work that you loved. I was in my senior year of college and I had a recreation management class where we toured different facilities and learned about what it takes to manage them, from the manager of the facility. The one that I will never forget about was the ice hockey rink where we learned about ice management from the Zamboni driver. He made ice management sound like the most interesting and technical process and his passion for it was literally radiating off of him. It sounds crazy, but I truly remember thinking, "Wow, I hope I love my job someday as much as he does!" And to this day, I firmly believe that people should ONLY do what they are passionate about. Life is simply too short not to. And the wine industry is no exception. It not only requires hard work and dedication, it requires PASSION.
It was such a treat learning about the food and wine pairings from Alfiero because of his…can you guess it? Yes, his passion! As Alfiero says, "Wine is one of the most prized commodities in the world and we get to work with it every day!"
So now that I've already written a novel, it's time to get to the moral of the story…the WHY behind the pairings!
Taste wine, eat food and then taste wine again to get the full food/wine pairing effect.
Pairing Guidelines: Cheat Sheet
Acid + Acid
Sweet + Salty
Bitter + Fat
Acid + Fat
Alcohol + Fat
Alcohol + Spicy = NO
Bitter + Bitter = NO
And now for the menu:
White asparagus, toasted almonds, lemon butter & thyme
2017 Unwooded Chardonnay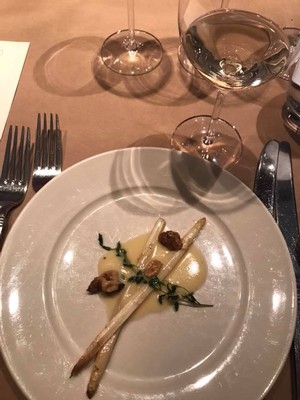 Little gem lettuce, house pepperoncini, gorgonzola, herb vinaigrette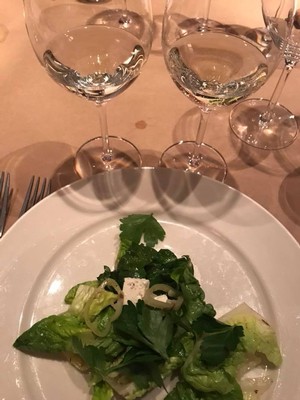 Beets, duck leg confit, goat cheese, strawberry-honey vinaigrette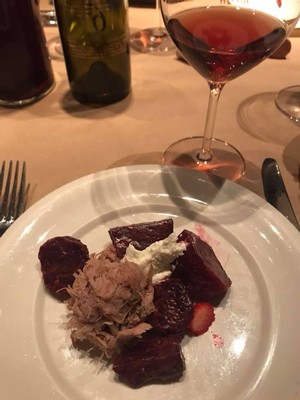 Lamb spiedino, carrots, sweet potatoes, parsnips, brodo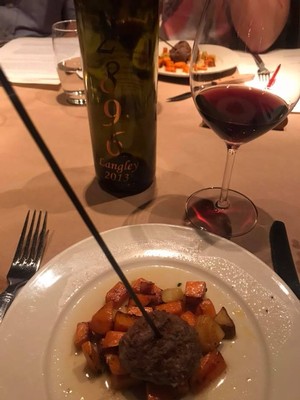 Candied almond meringue, strawberry & pear compote, pickled black mission figs, orange zest, honey
2016 Riesling, Langley Late Harvest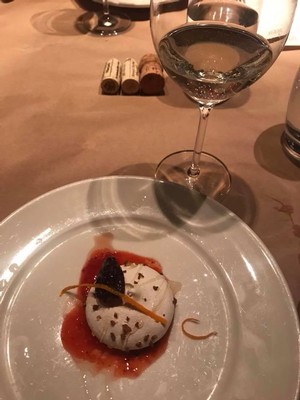 You drooling yet? By looking at the cheat sheet, can you see why the chef paired these foods and wines together?
Wine enhances food and vice versa. To enjoy both to their fullest capacity we must explore and understand their relationship! Whether you're new to wine, a sommelier, or somewhere in between, wine and food pairings should be fun and accessible. Great pairings truly take the dining experience to the next level. Tasting and smelling the different notes and nuances helps to train your palette, and you begin to notice small details. Once you get the experience of how wines work with different foods, you'll take your dinner parties or Taco Tuesday nights to the next level!
It feels like wine and food pairing is a never-ending topic, which I know can seem overwhelming. Hopefully the pairing guidelines cheat sheet will help with future meal planning. I'm always here if you'd like any suggestions! Feel free to email me anytime at Alaina@bowersharbor.com.
I wrote another food pairing (wine and cheese) blog last Fall which also may help you for future cocktail parties, check it out here.