September 5, 2017 | BHV Staff, General | Alaina Dodds
Through the Vines and Behind the Scenes: Part One
I am now three weeks into my new position as Marketing Manager for Bowers Harbor Vineyards (BHV) and wow, I have learned a lot! I came into this position having been familiar with BHV for years, as I've helped in the tasting room here and there during busy seasons and events, am an avid wine drinker myself and have a passion for the bustling wine scene here on Old Mission Peninsula. I have years of experience in the marketing world, which is also something I love and the opportunity to combine two of my biggest passions at my favorite winery is like a dream come true. I'm so excited to be here and learn all about the wine making process and everything behind the scenes. So hi! I'm Alaina Dodds and I look forward to meeting all of you when you visit us!
Visiting a winery and doing wine tastings with your family and friends is so much fun, right?! I've witnessed couples, singles, regulars, first-timers, bachelorette parties, anniversaries, groups of friends and families enjoying their time at BHV in just the past few weeks. I love watching the enjoyment on everyone's faces.
It is our job to make working in the wine industry look and feel fun and carefree. We want you to come into our tasting room and truly relax, learn something, have some laughs and go home a little happier than you were before (and tell your friends about us).
What I have never really thought about…until now, is how much work actually goes into ONE bottle of wine! Or how much happens behind the scenes to ensure that the guests have a variety of high quality wine to choose from and that the staff is educated on the entire selection. The labor of wine is intensive, finicky, tough, stressful and oh so rewarding.
The grapes shown in this photo below are the Chardonnay grapes grown in the block of vines right in front of the tasting room. The first picking of these grapes will be in mid-to-late September and will make our 2017 vintage of Cuvee Evan Blanc de Blanc. This is really exciting because the fist vintage of this wine was in 2005, then 2009, then 2014 and this year's will be our 2017 vintage which won't be available until 2020, due to the three-year aging process. We follow the traditional champagne method (methode champenoise), which is universally acknowledged as producing the highest quality and most age-worthy sparkling wines.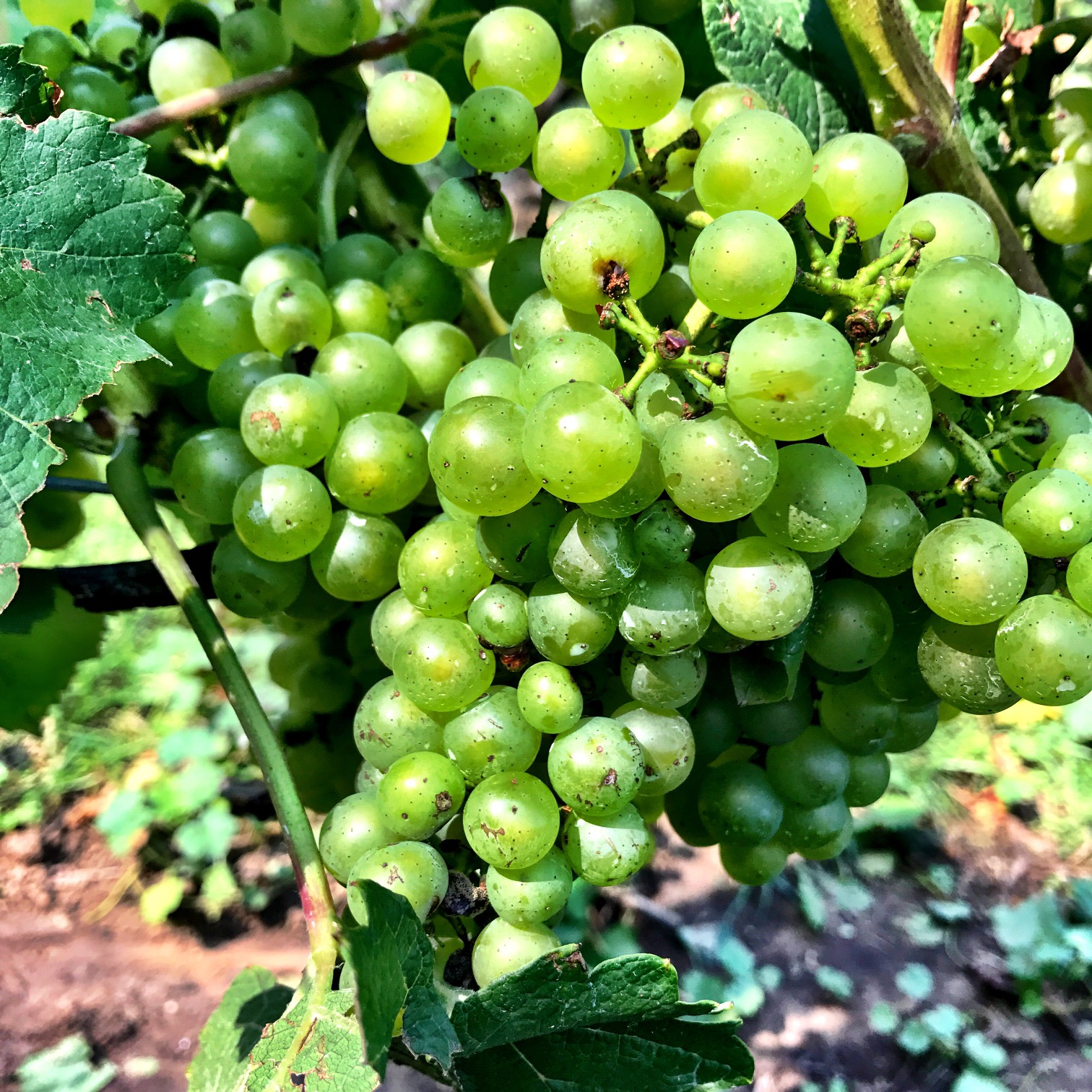 The Chardonnay grapes are currently measuring 8-10 degrees brix and we want them to be at 19 brix before we harvest. Because we have had some cooler weather this summer, harvest will be a bit later than usual. We pick these grapes earlier in the harvest season because they retain more acid and not too much sugar. Acid helps the fruit characteristics come forward and also helps to have longer aging potential. This block of chardonnay grapes was planted in 1991 and has 750 vines. It's incredible to think about how 26 years of growth and 750 vines of grapes can produce just a few kinds of wines. Our first picking of this block will be used to make our Cuvee Evan Blanc de Blanc and our second picking (once the residual sugar levels have increased) will make our Chardonnay RLS Reserve.
I know you don't want to wait all the way until 2020 to try our Cuvee Evan Blanc de Blanc, good thing you don't have to! We just released our 2014 vintage, we only have 90 cases though! You can pick up your own bottle ($38) or case when visiting our tasting room or by purchasing online here.
See you next time when we take another journey through the vines and behind the scenes at Bowers Harbor Vineyards!