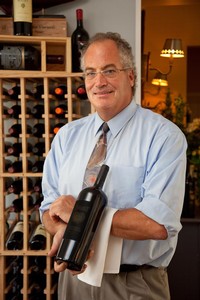 Bowers Harbor Vineyard is one of my favorite local wine destinations. The tasting room at Bowers Harbor Vineyard is a traveler's destination, a foodie's delight, and a wine connoisseur's haven.
Traveling from Traverse City to Bowers Harbor Vineyards, you'll find yourself in a quiet realm with the Grand Traverse Bay's brilliant blue water framing the peninsula. Your worries will soon be left behind.
I like to start with the 2896 Sparkling Rose wine while overlooking the vines and Bowers Harbor Bay, although the friendly staff can make your wine choice very easy. They might recommend a very reasonably priced wine flight or a wine and food pairing flight. All you have to do is sit back and relax.
For the more adventuresome travelers, a vineyard wine specialist can take you on a private tour and wine tasting. This is a great way to introduce yourself to the local history, the wine growing and insider's look and tastes of some of the region's finest limited release wines.
You can also attend one of Bowers Harbor Vineyards' special events: Dining in the Vines. This experience is a four-course gourmet food and wine event among the vines catered by their close neighbors, The Boathouse Restaurant. This is a unique event you don't want to miss, because of its delicious wine and food pairings in a beautiful atmosphere.
Take the short drive up Old Mission Peninsula, enjoy the stunning views, let the friendly staff lead you on a pleasant wine journey, and enjoy Bowers Harbor Vineyards. We locals certainly do!
Michael Richmond
Sommelier and General Manager
The Boathouse Restaurant
Traverse City, MI