June 25, 2018 |
Alaina Dodds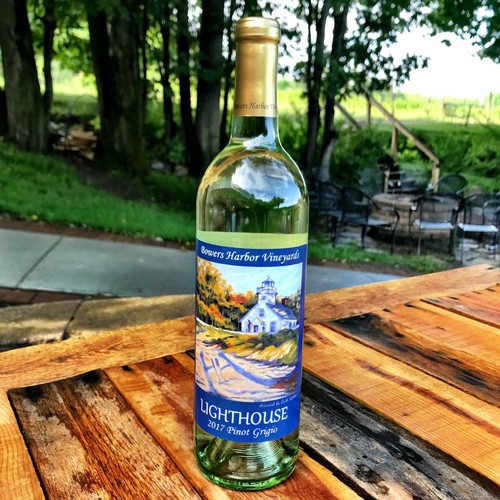 Mission Point Lighthouse Friends and Bowers Harbor Vineyards announce the release of their specially labeled 2018 Lighthouse Wine. Produced with Bowers Harbor Vineyards' light and refreshing Pinot Grigio, a portion of the sales are dedicated to the preservation of the peninsula's beautiful lighthouse.
For the third year, Mission Point Lighthouse Friends invited artists to submit their work to be featured on the specially labeled Pinot Grigio. Each April, the public is invited to Bowers Harbor Vineyards' Tasting Room to help select the winning artwork. This year's winner was Ruth Kitchen, whose beautiful watercolor is featured on these lovely bottles of wine.
To date, Bowers Harbor Vineyards has counted it a privilege to be able to donate over $4,300 to this beloved local landmark. The Lighthouse Pinot Grigio is available at Mission Point Lighthouse and at Bowers Harbor Vineyards; this wine is also available to ship. To view more of Ruth Kitchen's work, go to her website. Click here to purchase the Lighthouse Label Pinot Grigio.