August 16, 2018 |
Alaina Dodds
We are so excited that our 2016 Bowers Harbor Red has made its way into the recipes of Chef Sam at Fustini's new Fresh Take cafe! Chef Sam is so creative with his dishes and this new restaurant is no exception! We've partnered with Chef Sam and Fustini's in the past and love that we play a part in their Fresh Take menu. In fact, we are partnering on a wine dinner together coming up on Sept. 14th here at Bowers Harbor Vineyards! Fresh Take is a grab and go concept and they're committed to using the freshest ingredients possible, supporting tons of local farms.
Our Bowers Harbor Red is included in the sauce for their Braised Beef. Chef Sam was kind enough to give us the recipe for it. You'll need to tweak the amounts in proportion to how large a recipe you make, but we know the result will be amazing!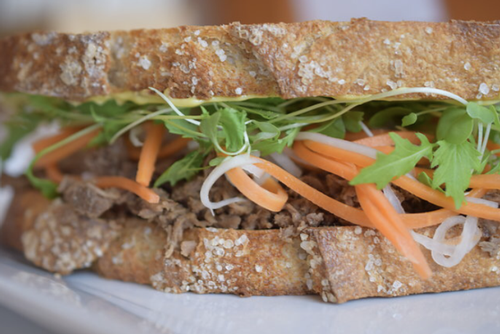 Braised Beef Recipe:
Top round (trimmed)
Carrot, large dice
Onion, large dice
Garlic cloves - halved
2016 Bowers Harbor Red wine
Soy sauce
Thyme
Peppercorns
Coriander
Mustard seeds
Bay Leaf
Chicken stock (as needed)
Method:
Cut beef into 1-2" cubes, season with salt and pepper and sear in oil until golden brown. Set aside. Add carrots, onion, garlic and sweat. Deglaze with wine. Add beef and carrots/onion/garlic mixture and spices to pan, add chicken stock (enough to almost entirely cover the beef) and cook in a 325 degree oven for 2-3 hours or until beef is tender and pulls apart easily. Chef Sam also recommends topping the braised beef with microgreens, mustard aioli and a pickled vegetable slaw. Pile high on top of your choice of crusty loaf bread and enjoy! I like to dip the sandwich in leftover au jus from the beef.
Next time you're in Downtown Traverse City, make sure to stop into Fresh Take for a delicious grab and go lunch!