October 12, 2018 |
Alaina Dodds
You may have heard the good news! We have THREE new and very glorious red wines! We know you have been "patiently" waiting for the release of these red wines and we are so excited to announce that they are available for both tasting and purchase! We are doing a special tasting fee of $5 to taste all three of the new wines, so you can either taste these in addition to your normal five for $5 or just come in and taste these three. Wine Club Member? You can taste them for free as part of your normal free tastings per visit!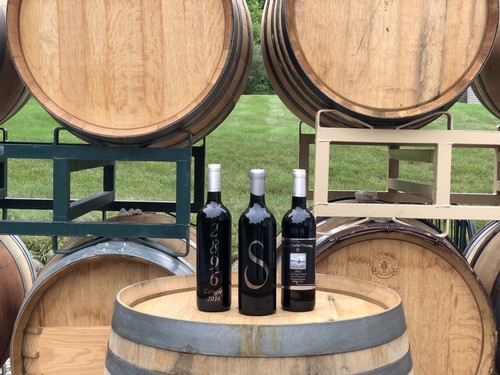 Quick Facts
2016 Cabernet Franc, Erica $55
100% Cabernet Franc
170 cases
18 months of aging in French Oak barrels: first and second use.
Tasting Notes: Ripe raspberry, rosemary, grippy structure from the tannins of the thick skins of the Cab Franc, long finish. Age 1-2 years before drinking. Will age 8-10 years, plus.
50% Cabernet Franc, 50 Merlot
220 cases
18 months of aging in French Oak barrels: first and second use.
Tasting Notes: Blackberry, tellicherry peppercorn, chocolate. Age 2-3 years before drinking. Will age 10-12 years, plus.
50% Cabernet Franc, 49% Merlot, 1% Cabernet Sauvignon
125 cases
18 months of aging in French Oak barrels: ALL FIRST USE BARRELS ONLY!!! $1200 EACH!
Tasting Notes: Currant, leather, tobacco. Age 3-4 before drinking. Will age 12-14 years, plus.
Our Barrel Program
Cabernet Franc, 2896 and Selection S are only produced on really warm, perfect grape growing vintages. We are not able to make them every year. In fact, we have only made the Selection S twice, in 2012 and 2106. The prices of these wines are based on the growing season and quality of the grapes, the cooperage and barrel selection we use and how many times the barrels are used, and the potential to age and mature beautifully. The 2896 was $50 in 2010, $75 in 2012, $55 in 2013, and we were not graced by Mother Nature to be able to make it in 2014 or 2015. Spencer feels this wine is even better than the 2012!
The barrel program Spencer has built with Bryan Ulbrich (our talented winemaker) and several high-end cooperages from France is like NO OTHER barrel program in the Midwest. The time and money spent on this program is remarkable and focused. We have 20 years of barrel experience and have improved the program each year by learning, tasting, listening to Mother Nature, training our vines and taking meticulous care of them, and only bottling our high-end reds in the superior growing years. It is a three-year process for each vintage to really see what barrels perform the best. We've taken Old-World lessons in this aspect of winemaking to learn, modify and improve every time we make wine. The 2896 wine was aged 18 months in first use and second use barrels. They cost approximately $1,200 each, and we only use the barrels twice for this program. For the Selection S, we aged this wine for 18 months in all brand-new barrels; expensive but worth it! This will give this wine the ability to age 10-15 years, and give it a complex flavor and finish.
Final Thoughts
In today's fast-paced, instant gratification world, the concept of buying wine and purposefully laying it down to age is a bit counter intuitive. Trust us. This wine is worth waiting for! When it comes to fine red wine, patience truly is a virtue!! AGE THE WINE! We believe in you! You can do it! You will thank us!
Cheers!