November 18, 2019 |
Alaina Dodds
The most magical time of the year is nearly here with the holiday season right around the corner, when families and friends gather around the table and enjoy conversation, great food and, of course, plenty of wine. Although this time is wonderful and we look forward to it all year long, it can also be stressful! Families don't always get along, cooking for a lot of people isn't easy, juggling work/kids/travel schedules, etc can be difficult. Well, we have one solution to it all...WINE. Always wanting to make your lives easier, we've created the perfect Thanksgiving meal for you, with each course expertly paired with our wines and the reasoning behind the wine choices. So, sit back and enjoy the read.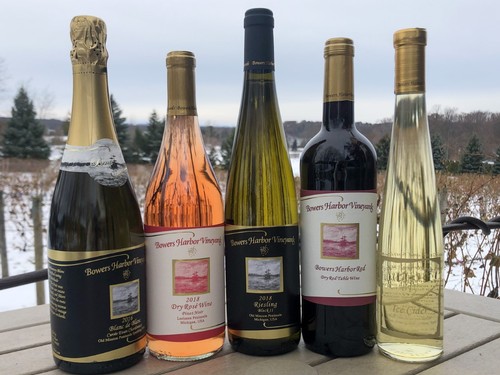 Appetizers and Cuvee Evan
We always like to start festivities out with some bubbly. It's celebratory, pairs so easily and is light and airy before a big meal. I LOVE our 2016 Cuvee Evan, Blanc de Blanc with baked brie, homemade potato chips or even spicy chicken wings! If you want something a bit fruitier, then a great choice would be Brix.
Main Meal with Rosé, Pinot Noir, Riesling, Block II, and Bowers Harbor Red
Stuffing, garlic mashed potatoes, turkey, cranberry sauce, candied carrots – oh my mouth is watering! Get out your stretchy pants people because we are going to stuff ourselves with deliciousness. I love serving all the wine with the main meal, giving lots of options for everyone. So, I will put out Rose, Pinot Noir which is a chameleon with food pairing because it is neither a white nor red. It'll provide some fruitiness, some tartness, as well as some earthy notes on the finish. It's technically a dry wine, but a people-pleaser! I'll also add Riesling, Block II to the mix, not only because it's my favorite wine on the planet but because very few wines can manage green vegetables (like green bean casserole or brussels sprouts) as Rieslings can. In addition, the acidity of the wine cleanses the palate between bites of heavier gravy, meat, and stuffing. With turkey, I like to serve a lighter red, which is where Bowers Harbor Red comes in. It offers fruit notes for the cranberry sauce, it's not heavy since turkey is a lighter meat, and you will get some hints of smoke on the finish from the barrel-aging that works amazingly well with potatoes and stuffing.
Dessert and Ice Apple Cider
This pairing is a staple time and time again, pumpkin cheesecake with Ice Apple Cider. Believe me, when I say, it's MAGIC and you want it on your holiday table this year.
I would love to hear your thoughts on how these pairings turned out. Wishing you all the happiest of holiday seasons!
Click on the highlighted wine names to go directly to each wine to shop, or click here to shop all wine.