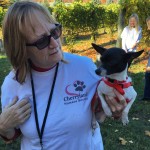 Anyone that has been to Bowers Harbor Vineyards probably noticed a little doggy influence at the winery. Otis, a Labrador Retriever, Cooper and Brix, both Bernese Mountain Dogs have been a part of the vineyard and now have wines named after them.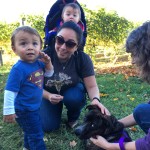 On Sunday, November 6th, Bowers Harbor Vineyards hosted Bow-Wow-ers Harbor Vineyards Dogs and Wine event benefiting the Cherryland Humane Society, a local non-profit, no-kill shelter in Traverse City where all animals are vaccinated, microchipped, and spayed or neutered. "Our connection with our furry friends lead to this event," states Kristy McClellan, Director of Operations for Bowers Harbor Vineyards. "We teamed up with the Cherryland Humane Society to raise money, gather volunteers and even adopt some dogs, all while enjoying a fantastic glass of wine."
The event raised over $1,500 directly for the Cherryland Humane Society plus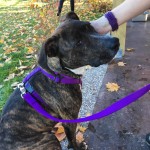 gave 4 dogs and 2 cats new loving homes. "On behalf of the Cherryland Humane Society, I would like to thank the owners and staff of Bowers Harbor Vineyards for making this event possible," states Heidi Yates, Executive Director at the Cherryland Humane Society. "We are truly grateful for such wonderful support."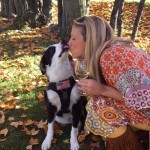 The day was topped off with a visit from local celebrity, K-9 Piper, wildlife control at Cherry Capital Airport, when he generously "manned" the doggy kissing booth. "Piper was the star of the event," says Kristy, 'everyone was lining up for a smooch from the Airport K-9."
Those who couldn't make the event are invited to go to www.cherrylandhumane.org/donate to contribute.