December 27, 2017 |
Alaina Dodds
Planning a New Year's Eve celebration? The New Year can be such an exciting time, full of fresh starts and future plans. It makes sense to ring it in with your closest family and friends. Popping open a bottle of bubbly is a surefire way to get the party started. But keeping the party going is another story, you don't want to have to pour bottle after bottle throughout the night. Setting up a self-serve champagne bar will not only stretch your bubbly supply with the addition of juices and liquors, it will also leave you free to hang with your guests and actually enjoy your own bash.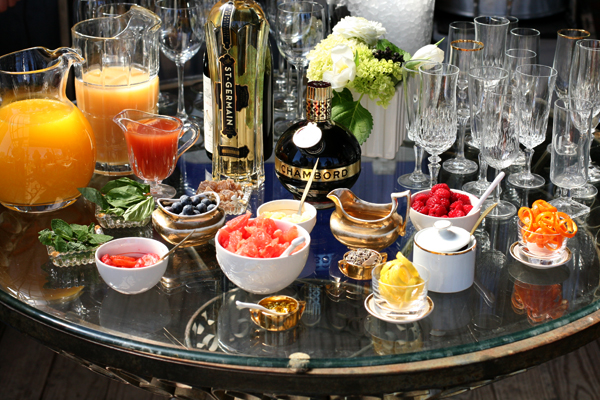 So put some bubbly on ice, stock up on aperitifs and fresh juices, and gather up some other garnishes. Here's how to set up the ultimate bubbly bar:
Stock up on Bowers Harbor Vineyards Sparkling Wine
Skip the high-end vintage Champagne. Opt for a dry, domestic, sparkling wine. One bottle of bubbly is enough for about eight cocktails, so keep your RSVP list in mind when shopping. My personal favorites are:
100% Pinot Noir and estate-grown
Strawberry fruit flavors with hints of white pepper
Great with smoked salmon, brie cheese and prosciutto, chocolate and raspberries
Explodes with bubbles
Always a crowd favorite
Bright green apple flavors
Delicious with stuffed mushrooms, buttered popcorn, shortbread cookies
100% Pinot Gris
Refreshing citrus flavors
Great with oysters, bacon-wrapped asparagus, almonds & antipasto
Stock Up on Booze
Experimentation is half the fun of a self-service Champagne bar, so make sure to gather up a wide range of liqueurs and spirits. Some of my favorites include:
Cognac
Gin
St-Germain
Bourbon
Crème de Cassis
Gather the Mixers
Dry Champagne works well with most juices, so encourage your guests to mix, match and try something they otherwise wouldn't order at a bar. I suggest stocking up on the following:
Simple syrup
Sugar cubes
Bitters
Peach juice
Orange juice
Stout beer
Lemon juice
Cranberry juice
Grapefruit juice
Garnish Your Bubbly Bar
Not only will a variety of garnishes make your bubbly cocktails look beautiful, booze-soaked fruit is always a treat to find at the bottom of your flute. Set up bowls of raspberries, strawberries and cranberries for guests to plop into their bubbly libations. Pre-cut lemon and grapefruit twists are also great flavor enhancers and a lot of fun.
Pop Those Bottles!
Now that your bubbly bar is all set up, it's time to make the cocktails. Fill a large bucket with ice to keep a few opened bottles on hand. Store the extra bottles in the fridge for later use.
Label your booze, mixers and garnishes with note cards, mini chalkboards or simply line a table with butcher paper and write ingredient names directly on the surface. Set out Champagne flutes, jiggers and bar spoons.
While I say go ahead and experiment with new flavors and inventing unique cocktails, here are a few of my favorite classic combinations to get you started.
Champagne + orange juice = Mimosa
Champagne + crème de cassis = Kir Royale
Champagne + bitters + sugar cube + lemon twist = Champagne Cocktail
Champagne + peach juice = Bellini
Champagne + stout beer = Black Velvet
Champagne + gin + lemon juice + simple syrup = French 75 (my absolute FAVE!)
Hope this inspires you to set up your own version of bubbly bar, I know that I have never NOT had a good time at a party where there's been a self-serve bar...
Happy New Year everyone! Wishing you all a safe and fun holiday! Cheers to 2018!