December 27, 2018 |
Alaina Dodds
It is VERY hard to believe but 2019 is right around the corner...no really it is, it's in 5 days! I've been going back and forth about what I want to do for New Year's, how do I want to ring it in? I've decided that I want to switch it up this year and cook a New Year's Day brunch for me and my husband. But (here's another twist), it will be a Spirit Cider-inspired brunch! Everyone goes the sparkling wine route for New Year's Eve so I thought it would be fun to be bold with Spirit Cider instead. Here's my menu if any of you want to try this too!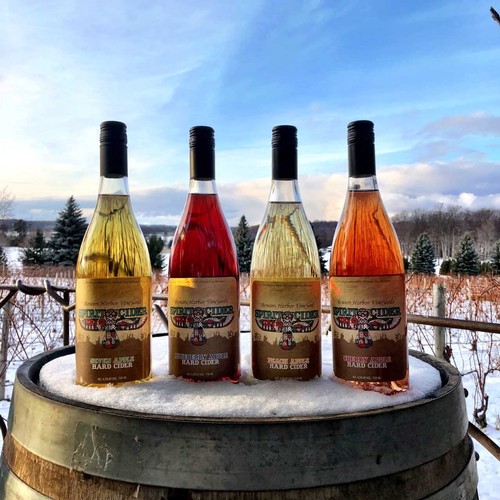 Cocktails and Confessions
Blueberry Cider Delight
Ingredients:
1/2 cup blueberries
1/2 oz lemon juice
1/2 oz simple syrup
1.5 oz Tito's Vodka (or your favorite vodka)
Lemon twist for garnish
Method:
Muddle blueberries, lemon juice and simple syrup in a shaker tin.
Add vodka and ice, and shake.
Strain over fresh ice into a pint glass.
Top with Blueberry Spirit Cider (fill the rest of your pint glass) and garnish with a lemon twist.
Spirit Cider Mimosa
Pay attention here, this one is tricky....
Ingredients:
Simply Orange juice (or your favorite OJ)
A thin orange slice for garnish
Method:
Pour Spirit Cider into a Champagne flute, top with OJ and garnish with orange slice.
Voilà!
Brunch Bunch
Days where brunch is involved are the best days – am I right? You can sleep in, maybe get a workout in before (if you're feeling feisty) and meet your friends for a hearty meal and a carafe (or 10) of mimosas. Then a nice long nap and you have had yourself a nice little Saturday. Sound familiar?
What is brunch without carbs? It's not brunch at all in my book! Here I am to introduce you to the carb of all brunch carbs...a Dutch Baby, which is a light and puffy/fluffy pancake that actually pairs amazingly well with our Spirit Cider.
Blueberry Dutch Baby
Serves two
Ingredients:
3 tablespoons unsalted butter, divided
2 1/2 ounces (72 grams) all-purpose flour, approximately 1/2 cup
3 tablespoons granulated sugar
1/2 teaspoon kosher salt
2 large eggs, at room temperature
1/2 cup whole milk, at room temperature
1/2 teaspoon vanilla extract
Powdered sugar, for serving
Bluberries, for serving
Lemon wedges, for serving
Method:
Heat the oven to 375 degrees F.
Put 1 tablespoon of the butter in a 10-inch cast iron pan and heat the pan in the oven for 10 minutes. Melt the remaining 2 tablespoons of butter and set aside to cool slightly.
Pulse together the flour, sugar and salt in a blender or food processor. Add the eggs, milk, vanilla extract and melted butter, and blend the batter until smooth and frothy, 30 to 45 seconds.
Carefully remove the hot skillet from the oven and immediately pour the batter into the center. Bake for 20 minutes, do not open the oven while baking. The Dutch baby will puff up in the center and the edges will be dark and crispy.
Serve warm with a sprinkling of powdered sugar, a handful of blueberries and lemon wedges for squeezing.
Apple and Cheddar Quiche
Serves six (great leftover!)
Ingredients:
2 large apples (cored and cut into bite sized chunks)
1 cup Seven Apple Spirit Cider
4 strips bacon (cut into 1 inch pieces)
6 sheets phyllo (thawed as directed on package)
1/4 cup olive oil
1/2 teaspoon rosemary (chopped)
1 cup strong cheddar (grated)
4 eggs (lightly beaten)
1 cup half and half
Method:
Simmer the apple slices in the Seven Apple Spirit Cider until they just start to turn tender, about 3-5 minutes, remove and set them aside.
Simmer the remaining cider to reduce to about 2 tablespoons.
Meanwhile, cook the bacon in a pan and set aside.
Brush a sheet of phyllo pastry with the olive oil and fit it into the bottom of a greased 9 inch pie dish or springform pan with the ends hanging over the side of the pan and repeat with the remaining sheets placing them on top.
Toss the apple slices in the reduced cider and spread them out over the bottom of the pan.
Sprinkle the bacon, rosemary and cheddar cheese on top of the apples.
Mix the eggs and half and half, pour into the pan and fold the edges of the phyllo dough that is hanging over the sides.
Bake in a preheated 375F oven until golden brown and set in the center, about 45 minutes (check every few minutes after 35 minutes for desired doneness).
Make ahead hint: I plan to make this on New Year's Eve and just pop in the oven the next day.
Enjoy!
I'd pair both of the above dishes with any of our fruity Spirit Ciders – and I AM going to pair them with BOTH of the Spirit Cider cocktails above. Give it a try and let me know what you think!
I'm wishing the best year yet for all of you, Happy New Year!