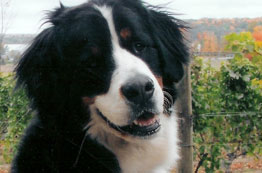 Cooper
Cooper was our second official tasting room mascot and greeter. Our laid back, fun loving Bernese Mountain dog enjoyed the special attention he received from our tasting room guests. His sweet white wine blend pairs well with Cooper's favorite food, cheese!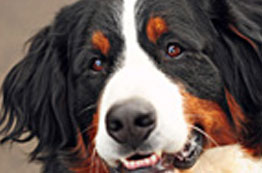 Brix
Our Bernese Mountain Dog, enjoyed retirement by strolling around the 20-acre property at his lake house. He also loved belly rubs, chasing flies, and stealing samples of venison jerky. He was named after the way we test the ripeness of our grapes; the sugar content in the grapes are measured in degrees Brix. His wine, "Brix," is bubbly and friendly, just like he was.

Otis
Otis, our Yellow Labrador Retriever, was the Vineyard's official greeter. He would greet our tasting room guests with his tail wagging and his welcoming personality. His loyalty to us all made him worthy of his own wine label!