Linda Bennett
Tasting Room Specialist
Linda lasted one year as a fully retired teacher, and decided she needed something interesting to do! She and decided that working at a winery might be fun and educational. Linda has become a "jack-of-all-trades" and done nearly every task at the winery. Most times, though, Linda can be found behind the register with a warm smile on her face.
Cheryl Stewart
Tasting Room Specialist
It was a neighbor of Cheryl's who introduced her to Bowers Harbor Vineyards. She had gone wine-tasting one afternoon, had a wonderful experience at BHV, and learned that the tasting room was looking for help. The neighbor suggested that part-time work at a winery might just be a fun diversion! Ten years later, Cheryl is still enjoying her ever-changing role at BHV.

Jane Damschroder
Tasting Room Specialist and Inventory Manager
Jane discovered Traverse City almost by accident. An avid reader, she noticed an article about the area in the Travel section of the Columbus Dispatch entitled "Grape White North". That was on August 11th of 2002, when there were just 16 tasting rooms spread across Leelanau and Old Mission. It spurred the first of many visits to the area. Ten years later she became a full-time Traverse City resident, and in 2013 joined the BHV team.

Winston
Winston is our current vineyard dog! He is a lovable English Cream Golden Retriever. You'll most likely see him riding around in the golf cart with Spencer or laying beside anyone eating snacks.
His red wine is 100% Zinfandel with flavors of fig, plum, and pepper. Being the class act that he is, he's donating a portion of the proceeds from his wine to the Cherryland Humane Society.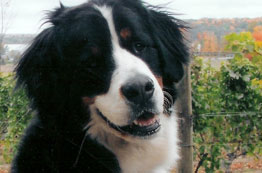 Cooper
Cooper was our second official tasting room mascot and greeter. Our laid back, fun loving Bernese Mountain dog enjoyed the special attention he received from our tasting room guests. His sweet white wine blend pairs well with Cooper's favorite food, cheese!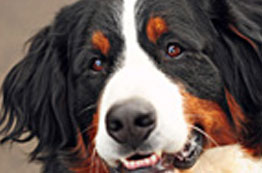 Brix
Our Bernese Mountain Dog, enjoyed retirement by strolling around the 20-acre property at his lake house. He also loved belly rubs, chasing flies, and stealing samples of venison jerky. He was named after the way we test the ripeness of our grapes; the sugar content in the grapes are measured in degrees Brix. His wine, "Brix," is bubbly and friendly, just like he was.

Otis
Otis, our Yellow Labrador Retriever, was the Vineyard's official greeter. He would greet our tasting room guests with his tail wagging and his welcoming personality. His loyalty to us all made him worthy of his own wine label!