January Club Wines
Click here to access your existing membership.
Bowers Harbor Club
1 bottle of each
cost if you do not change the order is $64.60 + tax
Cellar Starter Club
2 bottles of each
cost if you do not change the order is $120.00 + tax
Cellar Envy Club
4 bottles of each
cost if you do not change the order is $225.00 + tax
The wines this quarter are: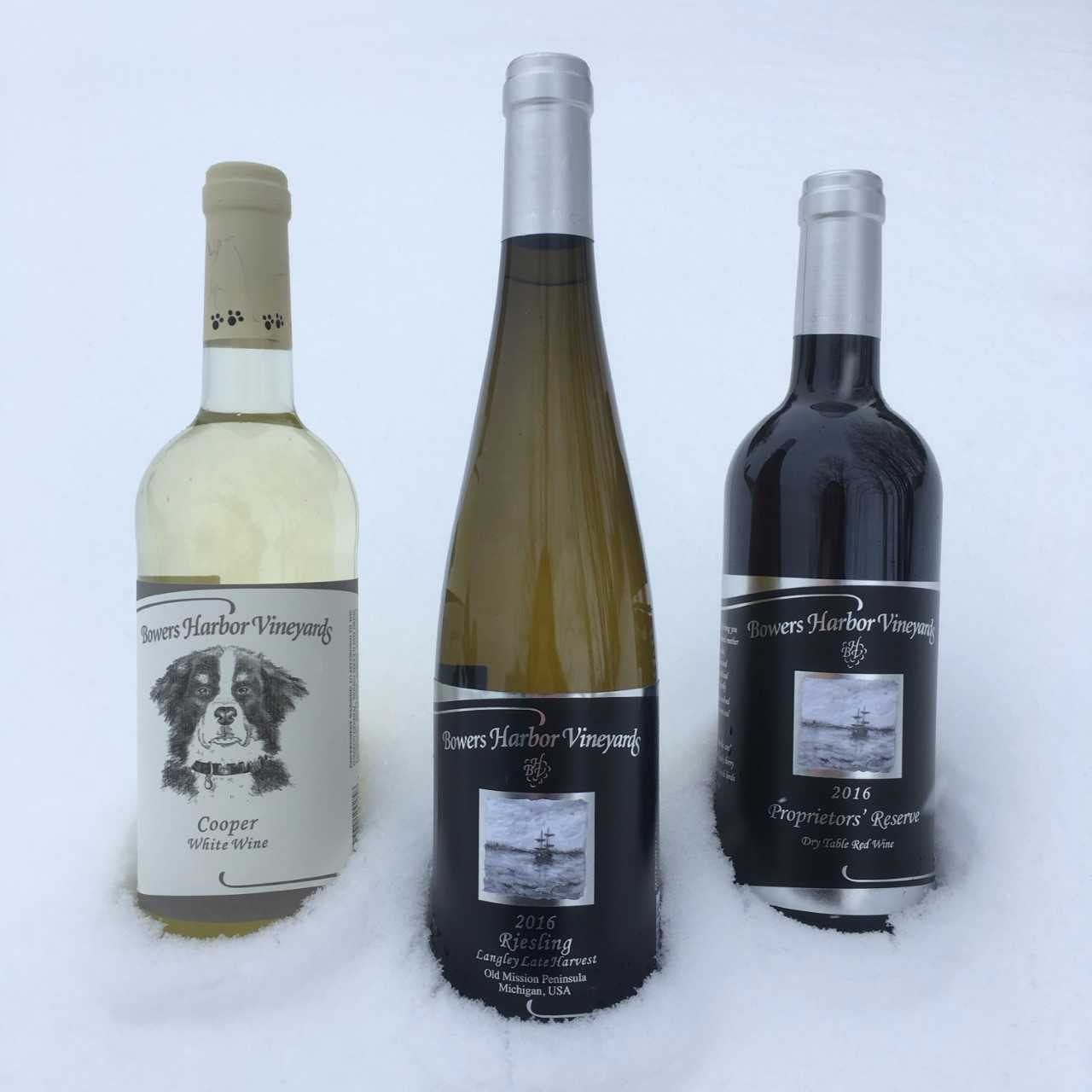 Cooper
Cooper was our second official tasting room mascot and greeter. Our laid back, fun loving Bernese Mountain dog enjoyed the special attention he received from our tasting room guests. This sweet white wine blend pairs well with Cooper's favorite food, cheese! Serve chilled and enjoy the refreshing melon and apple flavors.
2016 Riesling, Langley Late Harvest
Spencer Stegenga, proprietor and wine-grower, dedicated this vineyard to his beloved grandfather, Harold Langley, in 1998. Our Langley Vineyard boasts over 3,500 Riesling vines grown in optimal clay and gravel soil. Facing the western shore of Lake Michigan's Bowers Harbor, these vines ripen in the warm sunlight throughout our long summer days. The grapes are hand harvested late in the fall maximizing the intense golden fruit flavors, rich mouth feel, and sweet finish.
Proprietors' Reserve
Proprietors' Reserve is a blend of Merlot and Syrah. Merlot offers its soft, lush, black cherry and plum nuances, while the bolder Syrah lends notes of blackberry, clove and tobacco.
Linda and Spencer Stegenga proudly bring you their Proprietors' Reserve. This dynamic mother and son team have labored side by side, transforming what was a horse farm and simple stable into a thriving vineyard and tasting room. Twenty-six years of family history and "forced family fun," has evolved into great passion to produce fine wine and also to be stewards of the land.
Save the Dates!
1/3 - Time to pick your wine selection! Watch out for your email to hit your inbox.
1/20 - Wine Club Pick-Up Party! 10:30am - 12:30pm - catered by The Franklin!
1/20 - Wine Club Only Wine Dinner at The Franklin at 7pm - Reserve your spot by calling The Franklin at (231) 943-2727. *Stay tuned for menu viewing
1/21 - Last call to change wine selections
1/23 - Credit cards will be charged for wine club orders
1/29 - Wine club shipments will be shipped out
Click here to see all of our events