Watch for your email about January Club Wines in your inbox on January 2nd.
October Club Wines
Click here to access your existing membership
Click here to view the current Wine Club Members newsletter.
Bowers Harbor Club
1 bottle of each
cost if you do not change the order is $66.30 + tax
Cellar Starter Club
2 bottles of each
cost if you do not change the order is $124.40 + tax
Cellar Envy Club
4 bottles of each
cost if you do not change the order is $234.00 + tax
The wines this quarter are: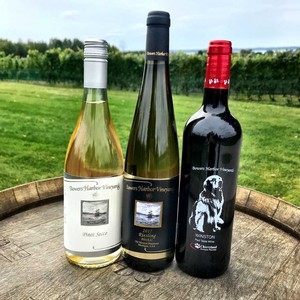 2017 Pinot Secco
This fun and flirty sparkling wine is one of the most recent additions to the Bowers Harbor wine roster. A riff on the much-loved brunch quaff, Prosecco, this bubbly is similarly fresh, fruity, and lightly-sweet. This wine would make an excellent addition to freshly-squeezed juices for your weekend mimosa, as a crowd-friendly celebratory drink, or just your daily glass of happiness!
2017 Riesling, Block 2
Our most awarded wine! Bright and fresh, Rieslings epitomize the beauty of a clear Michigan summer day. Riesling flourishes in our Northern climes, and is putting Michigan on the map with award-winning wines. Our Block II Riesling is one of these wines. The 2017 vintage is the driest in our Riesling line-up, with only half a percent of residual sugar. Crisp acidity accentuates the palate and brings forth mouth-watering notes of tart grapefruit pith. Move over, sweet Riesling! Dry Riesling has earned its moment in the limelight!
2016 Winston
100% Zinfandel with flavors of fig, plum, and pepper.
Bowers Harbor Vineyards' loving dog, Winston, is donating a portion of the proceeds from his wine to the Cherryland Humane Society. Your purchase helps support current dogs and cats who are awaiting adoption. We are proud to support the Cherryland Human Society which is dedicated to finding responsible, loving and permanent homes for every pet.
Important Save-the-Dates:
Saturday, January 12th - Pickup Party
10am -12pm
Enjoy breakfast tacos from Daily Blend
Thursday, January 17th - Pickup Party
5:00pm - 7pm
Enjoy chicken Tacos from Daily Blend
Upcoming Wine Club Wednesdays:
January 9th
February 20th
March 13th
April 13th
Wine Club River Cruise!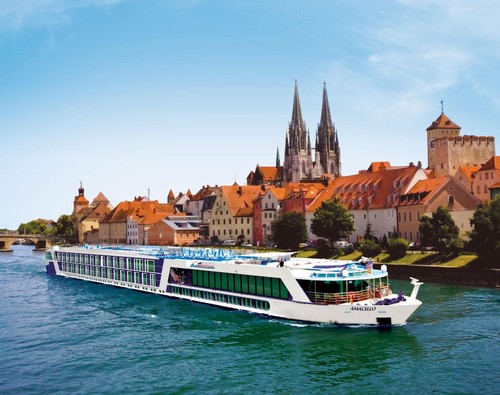 Update: 10 cabins have sold!!!
Join us for a 7-night river cruise, embarking from Luxembourg, traveling through Germany, France and concluding in Basel, Switzerland! We have been planning this for quite some time and we are SO EXCITED that the details are coming together. Our first-ever BHV Wine Club river cruise will include wine tasting, scenic cruising, castles, walking and garden tours, oh my!

All of the exciting trip details are online, click here to check out the full itinerary and book your trip but here are the major takeaways:

When: May 9 - May 16, 2019
Where: Rhine and Moselle Rivers
What: Wine and traveling adventures
Why: Because we love you!
Price: Starting at $3548/person
*airfare and taxes are not included

Space onboard the ship is limited so advance bookings are required. These beautiful AMA Waterways ships are intimate, carrying only 144 passengers. The more people in the BHV group the merrier!

For any questions about the river cruise and all bookings, please contact our designated travel specialist, Kim Schmitz at kim@cruisewithkim.com or call (231) 632-4158.

We can't wait for this adventure with you all and hope you are as excited as we are!