Watch for your email about July Club Wines in your inbox on July 1st.
Featured Wine Club Members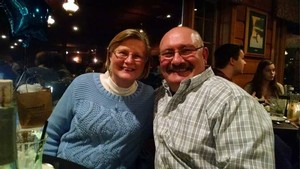 Meet Pam and Chuck DiPrima!
Pam and Chuck purchased a summer home in Michigan in 2003 after visiting from Illinois for over 30 years with friends and family. They fell in love with the people and the beauty of the state and we can't say that we blame them!
In 2015 Chuck retired after 29 years of service on the Fire Department. Pam had retired a few years before that and they made the decision to make their summer home their permanent residence. This was a huge decision for them since they had both lived in Illinois their entire lives. They took that leap, along with their golden retriever, to a new life or adventure as they like to call it and have never looked back.
Here's what Pam has to say about their first time to BHV, "Our first introduction to Bowers Harbor was so warm and inviting that we knew we would be lifelong members. The wine was wonderful and the staff is so knowledgeable and enjoys talking about the process of wine making and pairing it with foods that bring out the best aromas in the reds and whites. We discovered that sitting outside on a warm summer day, sipping on wine, and looking over the vineyards brings such a feeling of contentment and peace it cannot be duplicated.
We have been members now for several years and enjoy all the events offered throughout the year. We have met and established many new friendships including the amazing people who work there. Those relationships have opened up many new avenues of fun, interests, and enjoyment.
Bowers Harbor Vineyards is not just a place to taste and buy exceptional wine. It is a community of people, who take newbies like us, and make us feel like we have been there all our lives. Our introduction to Michigan could not have been better defined than by the warmth and ambiance we felt the first day we walked into the establishment and the endearing friendships as a result of that first taste of Michigan."

Pam and Chuck, you two make our hearts pitter patter and we are SO glad (and honored!) that you've chosen to spend so much time with us. Thank you for being a part of our BHV family!
April Club Wines
Click here to access your existing membership
The wines this quarter are: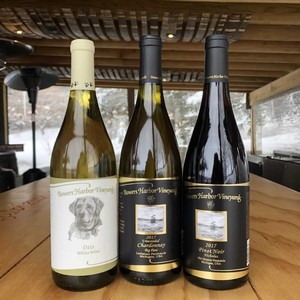 Otis
Otis is a unique combination of four different white varietals: Chardonnay, Pinot Gris, Riesling, and Muscat. Each grape brings its own distinct characteristics to the wine, perfectly complementing each other to bring you one of Bowers Harbor Vineyards' most beloved and well-known wines! Otis offers up Meyer lemon and blood orange on the nose, with white grapefruit, key lime and lemon zest on the palate.
Big Paw, Chardonnay
These beautiful Chardonnay grapes are harvested from the Big Paw Vineyard, a plot of land owned by a good friend over on the Leelanau Peninsula. The soil and growing conditions vary from the vineyard plots on our own estate, allowing us to experience the results of a different terroir in the same subregion. Pair Big Paw with grilled salmon with snap peas, leaks, pancetta and a mustard cream sauce
2017 Pinot Noir, Nicholas
The Nicholas Vineyard is situated just a mile south of our own estate, owned by a close friend of our proprietor and cultivated with care and attention to detail. Pinot Noir grapes are notoriously fickle grapes to grow and are susceptible to any number of hazards. Tight clusters of berries and very thin skins mean the grapes can easily develop mold, and the delicate skins can easily split exposing the pulp of the grape. Despite its capricious nature in the vineyard, Pinot Noir is one of the oldest and most sought-after wines in the world. Look for lovely tart cherry and toasted oak on the nose, moving through to a cranberry and light earth palate.
Bowers Harbor Club
1 bottle each of the wines photographed above (3 bottle club)
total cost if you do not change the order is $57.80 + tax
Cellar Starter Club
2 bottles each of the wines photographed above (6 bottle club)
total cost if you do not change the order is $108 + tax
Cellar Envy Club
4 bottles each of the wines photographed above (12 bottle club)
total cost if you do not change the order is $204 + tax