April Club Wines
Click here to access your existing membership
Check out our latest WINE CLUB NEWSLETTER here!
Bowers Harbor Club
1 bottle of each
cost if you do not change the order is $66.30 + tax
Cellar Starter Club
2 bottles of each
cost if you do not change the order is $124.80 + tax
Cellar Envy Club
4 bottles of each
cost if you do not change the order is $234.00 + tax
The wines this quarter are: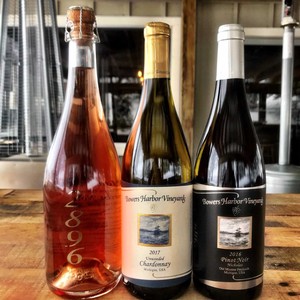 2013 2896 Brut Rosé
Made with the traditional Methode Champenoise, our Brut Rosé is fermented in the bottle and aged a minimum of three years before we release it for sale in our tasting room and online. This wine is produced from 100% Pinot Noir grown in our Langley vineyard, named after the owner, Spencer's, grandpa Harold Langley. Enjoy the strawberry fruit flavors with hints of white pepper from the Pinot Noir skins, and dry bready finish.
2017 Unwooded Chardonnay
A true hallmark of the aesthetic at Bowers Harbor Vineyards, our steely, crisp Unwooded Chardonnay brings a bit of Burgundy to Northern Michigan. Without the interference of oak-aging, the true varietal characteristics of the Chardonnay varietal shine through, while malolactic fermentation gives this stunner a creaminess that perfectly compliments the lean fruit aromatics. This wine expresses fresh fruit flavors of apple, pear and citrus followed by a crisp, clean finish.
2016 Pinot Noir, Nicholas
While 2014 and 2015 proved to be exceptionally difficult years for producing wine in Northern Michigan, 2016 turned around and gave us one of the most extraordinary vintages since our inception in 1991. Pinot Noir grapes can be challenging to cultivate in even the kindest climates, making it all the more worth celebrating an exceptional growing year. This Pinot Noir is soft, elegant, and reveals just the right amount of oak. Don't rush with this wine; it should be enjoyed at a reflective, leisurely pace! Look for lovely tart cherry and toasted oak on the nose, moving through to a cranberry and light earth palate.
Current Quarter Save-the-Dates!
4/3 - Time to pick your wine selection! Watch out for your email to hit your inbox.
4/12 - Wine Club Pick-Up Party!
5:00pm - 7:00pm - catered by Harvest!
4/22 - Wine Club Pick-Up Party!
10:30am - 12:30pm - catered by Harvest!
4/22 - Last call to change wine selections
4/24 - Credit cards will be charged for wine club orders
4/27 - Wine club shipments will be shipped out *subject to change
FUTURE Save-the-Dates:
*Dates may be subject to change
June 12th - Email will be sent to you regarding Pick-Up party dates and RSVP instructions. We want to make this a more intimate experiece for you so we are offering TWO more pick-up party dates, for a total of FOUR! There will be a max of 100 people at each pick-party so if there is a particular date you'd like, make sure to RSVP as soon as you get the email on 6/12. Parking will be at BHV for the July parties and we have an amazing restaurant partner, Alley's Market!
July 8th - Pick-up Party
9:30 - 11:00 am
July 12th – Pick-up Party
5:30pm -7:00pm
July 19th - Pick-up Party
5:30pm - 7:00pm
July 22nd – Pick-up Party
9:30am – 11:00am
October 11th – Pickup Party
5:00pm – 7:00pm
October 21st – Pickup Party
10:30am – 12:30pm
Wine Club River Cruise!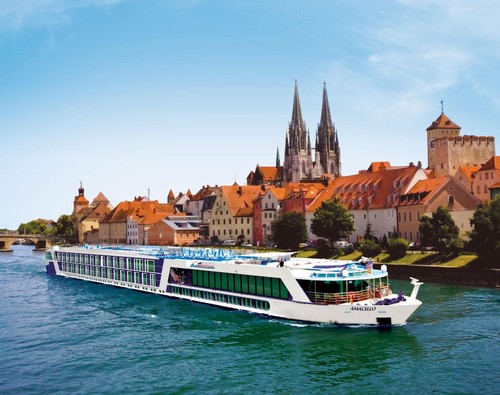 Update: 10 cabins have sold!!!
Join us for a 7-night river cruise, embarking from Luxembourg, traveling through Germany, France and concluding in Basel, Switzerland! We have been planning this for quite some time and we are SO EXCITED that the details are coming together. Our first-ever BHV Wine Club river cruise will include wine tasting, scenic cruising, castles, walking and garden tours, oh my!

All of the exciting trip details are online, click here to check out the full itinerary and book your trip but here are the major takeaways:

When: May 9 - May 16, 2019
Where: Rhine and Moselle Rivers
What: Wine and traveling adventures
Why: Because we love you!
Price: Starting at $3548/person
*airfare and taxes are not included

Space onboard the ship is limited so advance bookings are required. These beautiful AMA Waterways ships are intimate, carrying only 144 passengers. The more people in the BHV group the merrier!

For any questions about the river cruise and all bookings, please contact our designated travel specialist, Kim Schmitz at kim@cruisewithkim.com or call (231) 632-4158.

We can't wait for this adventure with you all and hope you are as excited as we are!