July Club Wines
Click here to access your existing membership
Click here to view the current Wine Club Members newsletter.
Bowers Harbor Club
1 bottle of each
cost if you do not change the order is $66.30 + tax
Cellar Starter Club
2 bottles of each
cost if you do not change the order is $124.80 + tax
Cellar Envy Club
4 bottles of each
cost if you do not change the order is $234.00 + tax
The wines this quarter are: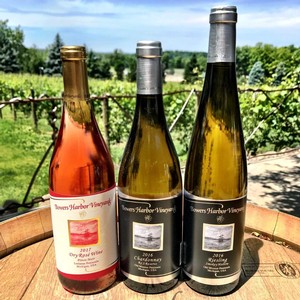 2017 Rosé, Pinot Noir
Strawberry, watermelon, and pomegranate fruit flavors burst from this wine. With less than .5% residual sugar, this wine finishes fairly dry. This is 100% Pinot Noir grown in the Wind Whistle Vineyard, which produces very ripe fruit giving the wine a round, luscious mouth feel. The Wind Whistle Vineyard on Leelanau Peninsula is farmed by Spencer's longtime friend, Doug Mathies. The Wind Whistle block was planted in 2006, formerly a sweet cherry orchard with all day sun exposure. This special spot features sandy soil with great water drainage and is only one-half mile from Lake Michigan, extending its growing season but staying cool enough to bring out the brightest fruit flavors.
2016 Chardonnay, RLS Reserve
This Chardonnay is an exquisite example harmony between dirt, plant, winemaker and cooper. The vines brought forth delicately ripe fruit with 22 Degrees Brix of sugar ensuring a perfect alcohol balance for a wine that seeks food for its true expression. More significant is that the roots pushed all of the mineral content from the sandy loam soils right into the berries.
2016 Riesling, Smokey Hollow
The morning mists in the Smokey Hollow Vineyard roll back as early morning sunshine warms the vines and ripens our Riesling grapes. Formerly home to dark, sweet cherry trees, this clay and gravel soil now succors heavy clusters of this classic, cool-climate grape. Exceptional growing conditions yield fruit with notes of crisp citrus and hints of pure minerals.
Current Quarter Save-the-Dates!
6/12 - Email will be sent to you regarding Pick-Up party dates and RSVP instructions. We want to make this a more intimate experiece for you so we are offering TWO more pick-up party dates, for a total of FOUR! There will be a max of 100 people at each pick-party so if there is a particular date you'd like, make sure to RSVP as soon as you get the email on 6/12. Parking will be at BHV for the July parties and we have an amazing restaurant partner, Alley's Market!
7/3 - Time to pick your wine selection! Watch out for your email to hit your inbox.
Parking will be at BHV for all July Pick-Up Parties
7/8 - Pick-up Party: 9:30 - 11:00 am
7/12 – Pick-up Party: 5:30pm -7:00pm
7/19 - Pick-up Party: 5:30pm - 7:00pm
7/22 – Pick-up Party: 9:30am – 11:00am
7/22 - Last call to change wine selections
7/24 - Credit cards will be charged for wine club orders
7/27 - Wine club shipments will be shipped out
*subject to change
FUTURE Save-the-Dates:
*Dates may be subject to change
October 11th – Pickup Party
5:30pm – 7:00pm
October 14th - Pickup Party
9:30am - 11:00am
October 18th - Pickup Party
5:30pm - 7:00pm
October 21st – Pickup Party
9:30am - 11:00am
Wine Club River Cruise!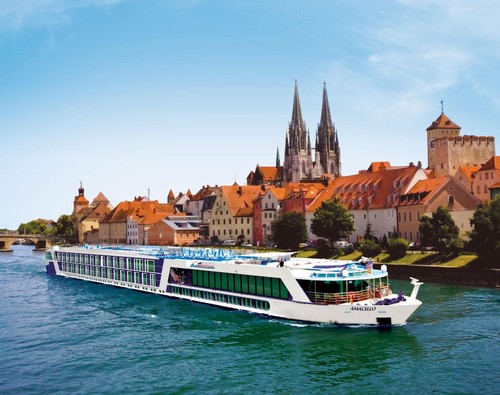 Update: 10 cabins have sold!!!
Join us for a 7-night river cruise, embarking from Luxembourg, traveling through Germany, France and concluding in Basel, Switzerland! We have been planning this for quite some time and we are SO EXCITED that the details are coming together. Our first-ever BHV Wine Club river cruise will include wine tasting, scenic cruising, castles, walking and garden tours, oh my!

All of the exciting trip details are online, click here to check out the full itinerary and book your trip but here are the major takeaways:

When: May 9 - May 16, 2019
Where: Rhine and Moselle Rivers
What: Wine and traveling adventures
Why: Because we love you!
Price: Starting at $3548/person
*airfare and taxes are not included

Space onboard the ship is limited so advance bookings are required. These beautiful AMA Waterways ships are intimate, carrying only 144 passengers. The more people in the BHV group the merrier!

For any questions about the river cruise and all bookings, please contact our designated travel specialist, Kim Schmitz at kim@cruisewithkim.com or call (231) 632-4158.

We can't wait for this adventure with you all and hope you are as excited as we are!