Watch for your email about January Club Wines in your inbox on January 2nd.
Featured Wine Club Members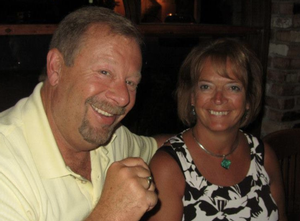 Meet Tim and MJ Postma!
They started out as guests of the tasting room in 1992, the first year we opened. Our cozy tasting room, a renovated horse barn, felt like home to Tim and MJ since they live on a gentlemen's farm in Marne, Michigan. Spencer wowed them with his charming personality and quick wit. Their love of wine grew, as did our love of them. Each year they would tell more friends about us and bring us new guests to impress. Our efforts in the vineyards increased, our knowledge of winemaking grew, and the end products kept getting better and better. And they would let us know! If we had a challenging year, or the wine didn't quite turn out the way we planned, we always made sure to pour some for Tim and MJ to get their opinions and approvals.
Naturally, they were perfect candidates to pitch our new wine club. Shoot, they were the people who told us to start a wine club! They travel all over the country (and now all over the world) to try wine, and always bring back wonderful ideas to share. Wherever they go, they bring BHV with them. Whether it's our wine, stories about us, or our logo wear, we travel with them. Tim and MJ are ambassadors to our brand. They even work off-site events for us! The stories they share and the passion they show have helped grow our brand. Due to their positive representation of our brand, we have received new guests, new club members and many new wine placements in retail locations all throughout Michigan.
As flagship wine club members, they play a very important part in our business. But they are way more than that. They are family. They cherish their "faux" grandchildren, Roxy and Macy, who are Kristy McClellan's (BHV's Director of Operations) children. They even stay with Kristy and her family when they come up to visit! And they always bring the sunshine with them. They work in our tasting room during visits too! For Winter Warm Up, one of our largest events of the year, Tim harvests the venison for our sliders. Not only that, he grills the sliders during the event! While, along by his side, MJ pours samples of our warm Spiced Cherry. They work hard make sure our guests get the service and experience they have enjoyed here themselves.

Tim and MJ, we truly love you! Thank you for being part of our BHV family.
Janaury Club Wines
Click here to access your existing membership
Bowers Harbor Club
1 bottle of each
cost if you do not change the order is $64.60 + tax
Cellar Starter Club
2 bottles of each
cost if you do not change the order is $121.60 + tax
Cellar Envy Club
4 bottles of each
cost if you do not change the order is $228.00 + tax
The wines this quarter are: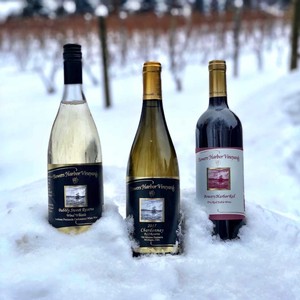 Bubbly Sweet Reserve
The Wind Whistle Vineyard, nestled on a breezy plot not far from the shores of Lake Michigan, gives us a beautiful fusion of 61% Auxerrois, 26% Riesling and 13% Chardonnay. Light sweetness is expressed in notes of star fruit, papaya, and guava, with just a suggestion of effervescence. Reminiscent of a clear blue Michigan day, enjoy this sweet Reserve with the freshest of local produce and an array of cheeses.
2017 Chardonnay, RLS Reserve
This Chardonnay is an exquisite example harmony between dirt, plant, winemaker and cooper. The vines brought forth delicately ripe fruit with 22 Degrees Brix of sugar ensuring a perfect alcohol balance for a wine that seeks food for its true expression. More significant is that the roots pushed all of the mineral content from the sandy loam soils right into the berries.
2017 Bowers Harbor Red
Bowers Harbor Red is a well-balanced blend of several Bordeaux varietals. Our medium bodied red boasts flavors of dark berry, black cherry, and hints of black pepper. This versatile red wine pairs well with most dishes, from pasta with fresh tomato marinara to baby back ribs. Best served just below room temperature.
Important Save-the-Dates:
Saturday, January 12th - Pickup Party
10am -12pm
Enjoy breakfast tacos from Daily Blend
Thursday, January 17th - Pickup Party
5:00pm - 7pm
Enjoy chicken Tacos from Daily Blend
Upcoming Wine Club Wednesdays:
January 9th
February 20th
March 13th
April 13th
Wine Club River Cruise!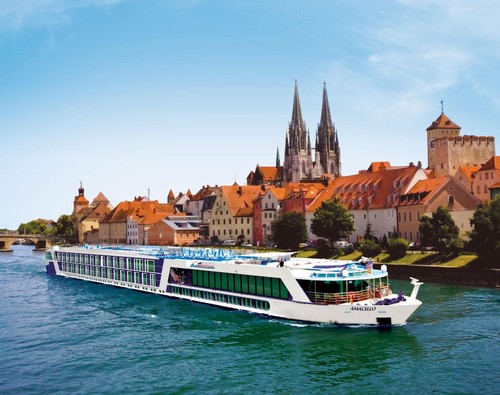 Update: 10 cabins have sold!!!
Join us for a 7-night river cruise, embarking from Luxembourg, traveling through Germany, France and concluding in Basel, Switzerland! We have been planning this for quite some time and we are SO EXCITED that the details are coming together. Our first-ever BHV Wine Club river cruise will include wine tasting, scenic cruising, castles, walking and garden tours, oh my!

All of the exciting trip details are online, click here to check out the full itinerary and book your trip but here are the major takeaways:

When: May 9 - May 16, 2019
Where: Rhine and Moselle Rivers
What: Wine and traveling adventures
Why: Because we love you!
Price: Starting at $3548/person
*airfare and taxes are not included

Space onboard the ship is limited so advance bookings are required. These beautiful AMA Waterways ships are intimate, carrying only 144 passengers. The more people in the BHV group the merrier!

For any questions about the river cruise and all bookings, please contact our designated travel specialist, Kim Schmitz at kim@cruisewithkim.com or call (231) 632-4158.

We can't wait for this adventure with you all and hope you are as excited as we are!