July Wine Club
Click here
to access your existing membership
Featured Wine Club Members: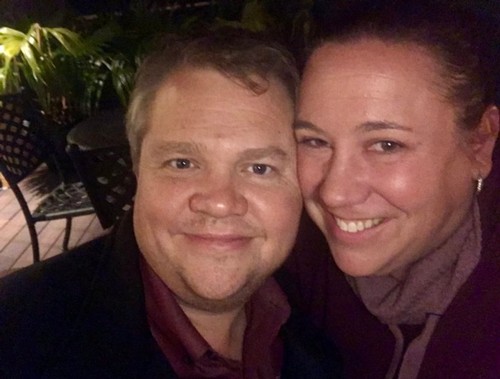 Meet Brian and Erin Barksdale!
Hello, Fellow Wine Connoisseurs! We are Brian and Erin Barksdale, from Grand Rapids. We have lived near Michigan's West Coast our entire lives. Married for 22 years, we have 4 children (which may or may not be why we started drinking wine in the first place), ages 20, 19, 16, and 14. Brian directs a large team of electrical engineers for Gentex Corp in Zeeland. He fell in love with northern and upper Michigan after attending MTU. He also developed a fondness for craft (or any) beer while in Houghton. Erin, on the other hand, stayed close to home and attended GVSU, which ultimately led her to her dream job with Walcott Elevator (no, we do not make elevators…. we sell grain and raise turkeys). Erin's affection for Michigan wines started promptly when she turned 21 and was able to experience the superior quality of the wine, available right here in The Mitten. Early on, we became aficionados of the Traverse City area, visiting as often as possible. Over the years, having the four little ones would allow for only day trips. However, as soon as grandparents were willing to take them for overnights, we started spending long weekends in the area, enjoying the beautiful landscape, and developing our taste for Michigan wine. We soon became patrons of Bowers Harbor Vineyards and have not bothered to stop anywhere else since! These days, we enjoy sunsets at our little vacation spot on Sand Lake, spending (limited) time with our family, cheering on our children, and dreaming about what we will be able to do when all four kids are through college (maybe a 2nd home in TC……?).
We treasure our time spent at Bowers Harbor Vineyards. Melissa has not only provided impeccable service to us through the wine club, but she has become a dear friend, always making us feel right at home while visiting. All of the staff is incredibly knowledgeable and patient, and we have enjoyed private wine tastings (chock full of information about all things BHV), breakfast among the vines, a tour of the new Wine Library, and laughing and reminiscing with our friends in the tasting room. Thank you, for so many fun memories, BHV! We cannot wait to see what you have in store for us!

We love you, Brian and Erin! Thank you for being such an important part of our BHV family.
The wines this quarter are: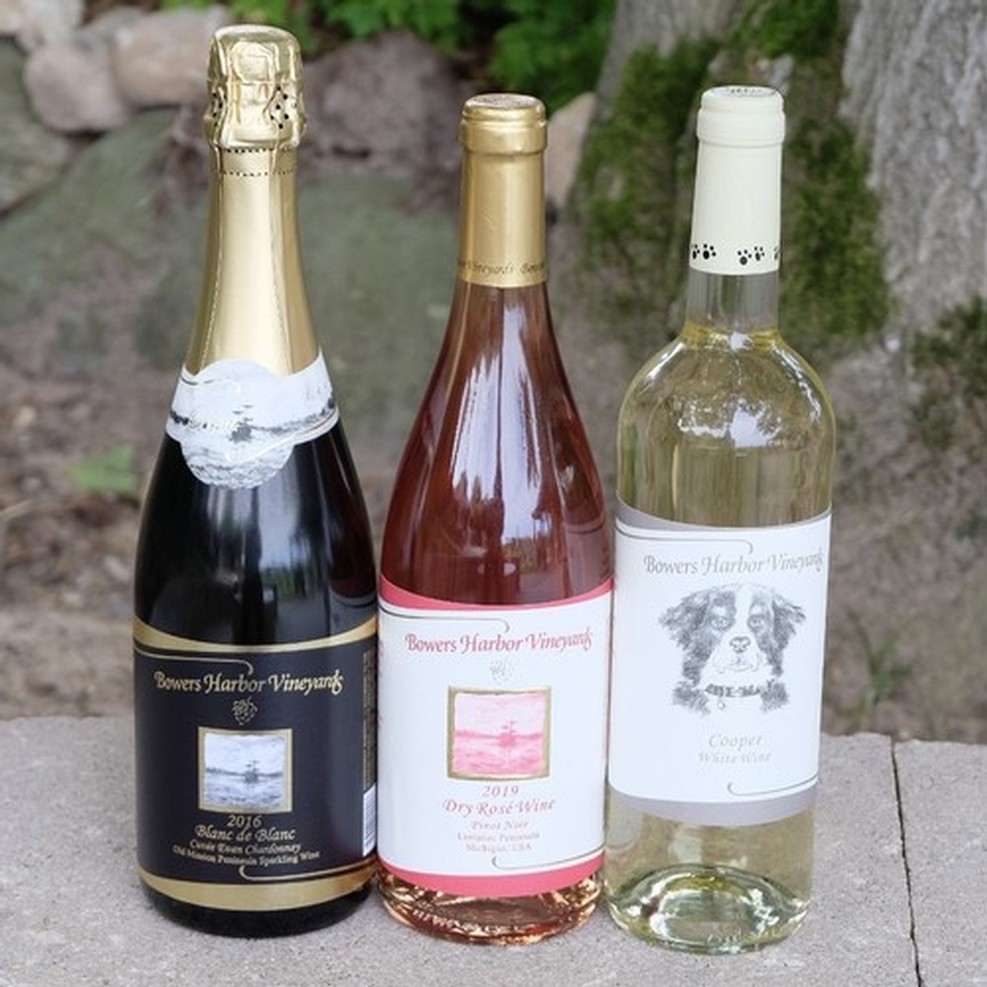 2016 Cuvee Evan Blanc de Blanc
Made with the traditional Methode Champenoise, this sparkling wine is made from 100% Chardonnay grapes and displays bright Granny Smith apple flavors complete with a touch of pizza dough creaminess on the finish.
2019 Rosé,
Pinot Noir
Strawberry, watermelon, and pomegranate fruit flavors burst from this wine. With less than .5% residual sugar, this wine finishes fairly dry. This is 100% Pinot Noir grown in the Wind Whistle Vineyard, which produces very ripe fruit giving the wine a round, luscious mouth feel.
2018 Cooper
White Wine
Cooper was our second official tasting room mascot and greeter. Our laid back, fun loving Bernese Mountain dog enjoyed the special attention he received from our tasting room guests. This sweet white wine blend pairs well with Cooper's favorite food, cheese! Serve chilled and enjoy the refreshing melon and apple flavors.
Bowers Harbor Club
1 bottle each of the wines photographed above (3 bottle club)
total cost if you do not change the order is $73.10 + tax and shipping (if applicable)
Cellar Starter Club
2 bottles each of the wines photographed above (6 bottle club)
total cost if you do not change the order is $137.60 + tax and shipping (if applicable)
Cellar Envy Club
4 bottles each of the wines photographed above (12 bottle club)
total cost if you do not change the order is $258 + tax and shipping (if applicable)
Key Dates to Keep in Mind:
July 19 - Last day to customize your order or to switch from ship to pick up.
July 20 - Your card will be charged.
July 22, 23 & 27 Orders shipped via UPS (UPS requires someone 21 years or older to sign for the wine).
Upcoming Pick-Up Party Dates:
July 2020
Thursday, 7/9 5:30 pm - 7:00 pm
Sunday, 7/12 9:30 - 11:00 am
Thursday, 7/16 5:30 pm - 7:00 pm
*All July Pick-Up Parties are sold out
October 2020
Thursday, 10/1 5:30 - 7:00 pm
Sunday, 10/4 9:30 am - 11:00 am
Thursday, 10/8 5:30 pm - 7:00 pm
Sunday, 10/18 9:30 am - 11:00 am
Upcoming Wine Club Wednesdays:
8/12 and 8/19
9/16
10/14
11/18
12/9
2021 Wine Club River Cruise:
Taste of Bordeaux!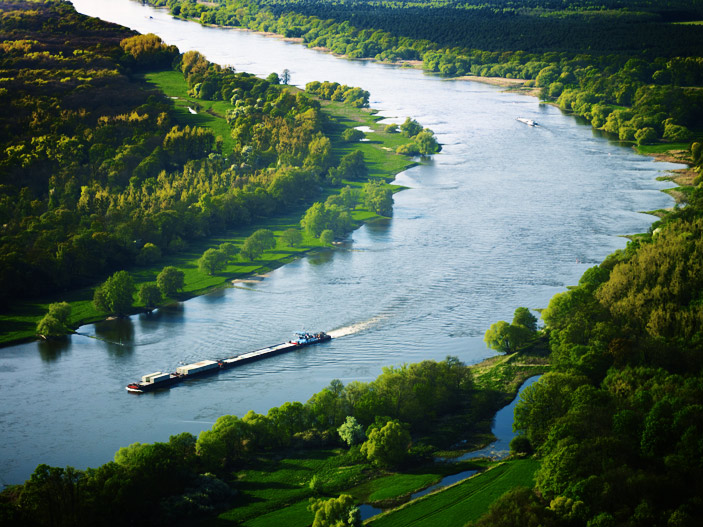 If you haven't heard yet, we are planning another AMAZING Wine Club River Cruise and this time it's through France's Bordeaux wine region! This trip will be May 6th - May 13th, 2021. The price per person is $4045 - $5344 (depending on which room you choose).
Join Bowers Harbor Vineyards on a 7-night river cruise to France's legendary wine capital, Bordeaux. Iconic châteaux, timeless vineyards and delicious wine tastings are plentiful as you visit Libourne, Blaye, Bourg, Pauillac and Cadillac. This trip is a must for anyone interested in the best of French culture, lifestyle, wine, and food.
On an AmaWaterways cruise, you will enjoy an extensive lineup of included tours. In many cases, you will have a choice of excursions, such as standard tours, bike tours, hikes, and Special Interest Tours. A large variety of activities are included so that you can choose how you want to explore. No matter your preference, your days will be full of discovery and wonder.

We already have eight people signed up and ready to go and we hope YOU can join us! The countdown is on! Click THIS LINK to learn more and to register!