Recipe of the Month
BBQ Pineapple Burger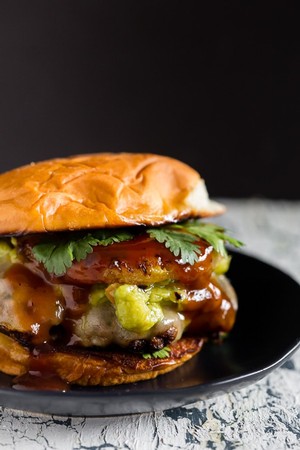 Yield: 4 BURGERS
prep time: 10 minutes
cook time: 20 minutes
INGREDIENTS:
For burgers:
1-1/2 pounds Certified Angus Beef ® brand ground beef
1/4 cup chopped cilantro
4 tablespoons pineapple bbq sauce
Kosher salt and pepper, to taste
4 thick sliced pineapple rings
4 slices pepper jack cheese
4 buns
2 avocados, mashed
For pineapple bbq sauce:
1/2 cup store bought bbq sauce
6 tablespoons pineapple juice
1/2 teaspoons crushed red pepper
Method:
For burgers:
1) Preheat your grill to medium-high heat.
2) Add ground beef to a bowl with chopped cilantro, 4 tablespoons pineapple bbq sauce, kosher salt and black pepper. Mix together and form into 4 burger patties, set aside.
3) Add pineapple rings to a grill and char slightly on each side. Once cooked set aside.
4) Add burgers to the grill and cook for about 5 minutes per side or until desired doneness is met. Top with cheese right before taking off the grill and let melt.
5) Add burger patties to your buns, top with smashed avocado, pineapple ring and drizzle with additional bbq sauce. You can also add on more cilantro if you're a fan.
For pineapple bbq sauce:
Mix together and set aside.
Enjoy!
~ Our recommended Spirit Cider pairing with this recipe is Pineapple-Apple. Give it a try and let us know what you think!