We have Blood Orange-Apple, Blueberry-Apple, Mango-Apple, Peach-Apple and Cherry-Apple on tap in our tasting room right now.
Come see us!
CLICK HERE TO JOIN THE SPIRIT CIDER SOCIETY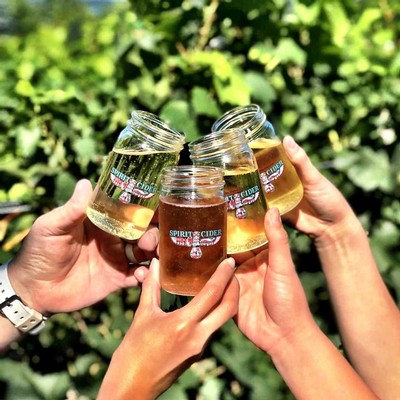 Cider Cocktail of the Month $6
Brix Cidermosa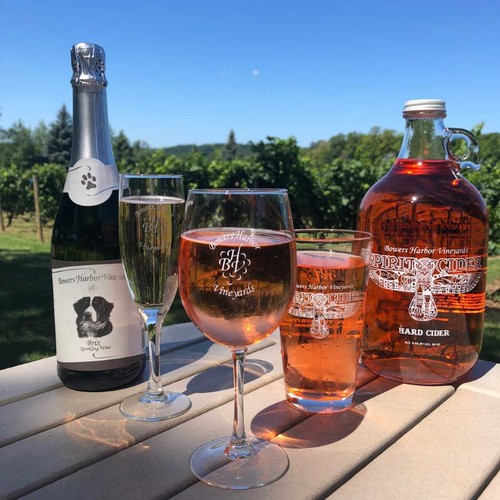 Brix Cidermosa Recipe:
Fill 3/4 pint glass with Blood-Orange Spirit Cider
Fill the rest with Brix Sparkling Wine
Garnish with an orange slice
Enjoy!
Recipe of the Month
Spicy Grilled Pork Tenderloin with Blackberry Sauce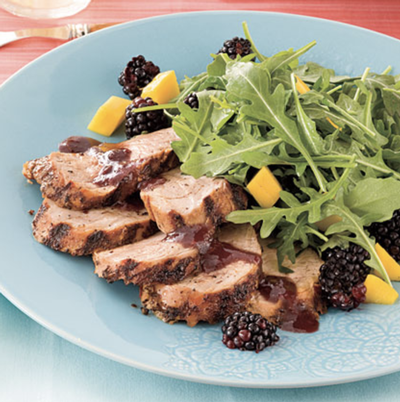 Ingredients:
3/4 Ib pork tenderloin
1 tbs olive oil
1.5 tbs Caribbean Jerk seasoning
1 tsp salt
2/3 cup seedless blackberry preserves
1/4 c Dijon mustard
2 tbs rum or orange juice
1 tbs orange zest
1 tbs grated fresh ginger
Method:
1. Preheat grill to 350 to 400 degrees (medium-high) heat. Remove silver skin from tenderloins, leaving a thin layer of fat. Brush tenderloins with oil, and rub with seasoning and salt.

2. Grill tenderloins, covered with grill lid, 10 minutes on each side or until a meat thermometer inserted into thickest portion registers 155 degrees. Remove from grill, and let stand 10 minutes.

3. Whisk together blackberry preserves and next 4 ingredients in a small saucepan, and cook over low heart, whisking constantly, 5 minutes or until thoroughly heated.

4. Cut pork diagonally into thin slices, and arrange on a serving platter. Drizzle with warm sauce.
Enjoy!
~ Our recommended Spirit Cider pairing with this recipe is Blackberry-Apple. Give it a try and let us know what you think!
This recipe came from the creative kitchen of Kevin!
Oktoberfest
Oktoberfest was SO fun last year that we are doing it TWICE this year (Friday, Sept. 13th and Saturday, Oct. 5th)! Don't delay in getting your tickets, they will go fast! For menu details, more information and to purchase tickets, click HERE. Here's a photo of Kristy and Matt from last year's event, how fun (and delicious!) does that look?!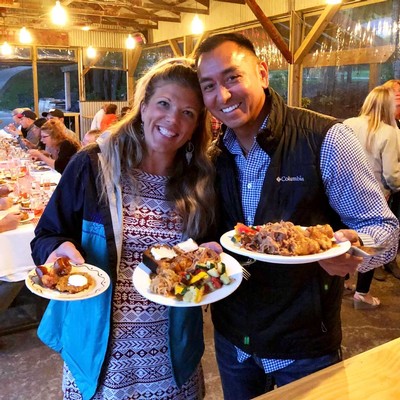 Farm to Table Dinner: Cider Edition
Save the date for our first-ever Farm to Table Dinner: Cider Edition with The Boathouse Restaurant Saturday, Sept. 28th at 4:30pm. For more information, tickets and menu details, click HERE.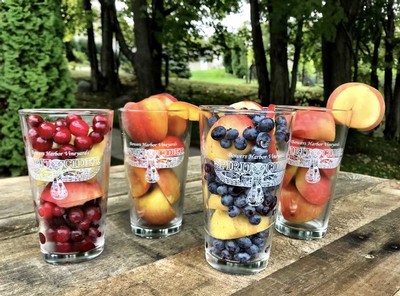 Featured Product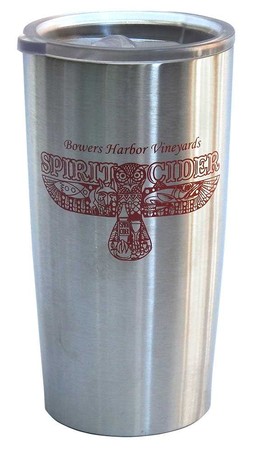 We ALL need one (at least) of these Stainless Steel Coffee Mugs. We also "say" they are for coffee but really they are for Spirit Cider on the boat and beach. They come in red, teal or white and you can purchase them in the tasting room or in our online store. Bottoms up!