Proposal/Anniversary Packages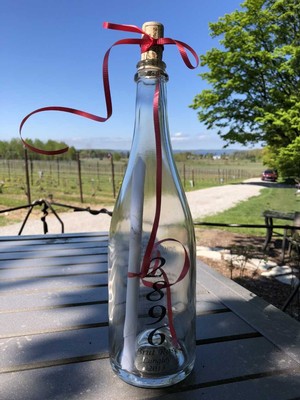 Are you looking for the perfect setting to create an unforgettable moment that you'll always cherish? We have a few ideas that might be just the romantic setting you're looking for!
Outdoor Anniversary Proposal and Anniversary Packages
Available May - October
Vineyard Tour- $100 for two
Start with a glass of Traditional Methode Champenoise Sparkling wine. We'll stroll with you through two or more of our estate vineyards, explaining the grape varietals and the stage of growth at that moment in time. Your wine guide will also tell you a brief history of the BHV vineyards, give explanations about our unique micro-climate, and educate you with fun viticulture and wine trivia. Your tour ends at a private table with you each choosing a wine or cider flight accompanied by a light snack.
Picnic Package- $70 for two
Set up at a private table in the vines, enjoy a picnic prepared with local cheeses, crackers, and BHV signature peach salsa with chips. Your choice of a wine or cider flight to taste through as you relish the beautiful scenery.
Wine Tasting- $40 for two
Set up at a private table in the vines, your personal wine specialist will bring the wines right to you! Enjoy a 5-sample tasting of our most popular wines and hard ciders accompanied by a light snack. Purchase a glass of wine after your tasting and enjoy the beautiful scenery.
Private Table- $25 for two
Reserve a private table in the vines to enjoy the company of each other and have a moment to yourselves. This option does not include any wine. Additional items (listed below) can be set up at the table prior to your arrival.
*in case of inclement weather, we will accommodate you in a setting protected from the weather
Wine Library Proposal Packages
Available year round
Wine Library Visit - $150 for Two
We'll welcome you to Bowers Harbor Vineyards with a glass of sparkling wine to enjoy while we give you an overview of our vineyards and history of our property. Next, we will escort you to our proprietor's personal wine library to get an inside look at over 28 years of bottled history in our wine library. Your experience will culminate with a tasting of one of our specially selected library wines. Your wine guide will educate you about the specifics of the vintage and varietal as well as the aging process of the wine. After your tour and wine education, you'll recieve a customized flight of five wines (1.5 ounce pours) based on your personal wine preferences, accompanied by a selection of local cheeses and crackers at a private and romantic table for two. Take home your wine glass and some unforgettable memories!
Wine Library Indoor Picnic - $100 for two
Enjoy a private table set up in our beautiful Wine Library in the Proprietors' house. Enjoy the private, romantic space while you each enjoy a flight of wine, as well as a gourmet plate of local cheeses and treats.
Want to add some special touches?
*Add a personalized label on any bottle of wine to take home for $5 + the cost of the bottle
*Add 2 glasses of Sparkling wine to any option: $7 - $10 per person depending on wine selection
*Leave with a bottle of your choice of our sparkling wines, with "Mr" and "Mrs" champagne flutes to commemorate your special day! (Price dependent on wine selection)
All of these options can be customized! Your proposal or anniversary package will be coordinated through Lindsay, so just let her know about any special details and she will work with you to make it perfect. Fill out the form below and she will be in touch soon!